20 Hryvnia WE WILL NOT FORGIVE! - commemorative banknote
Available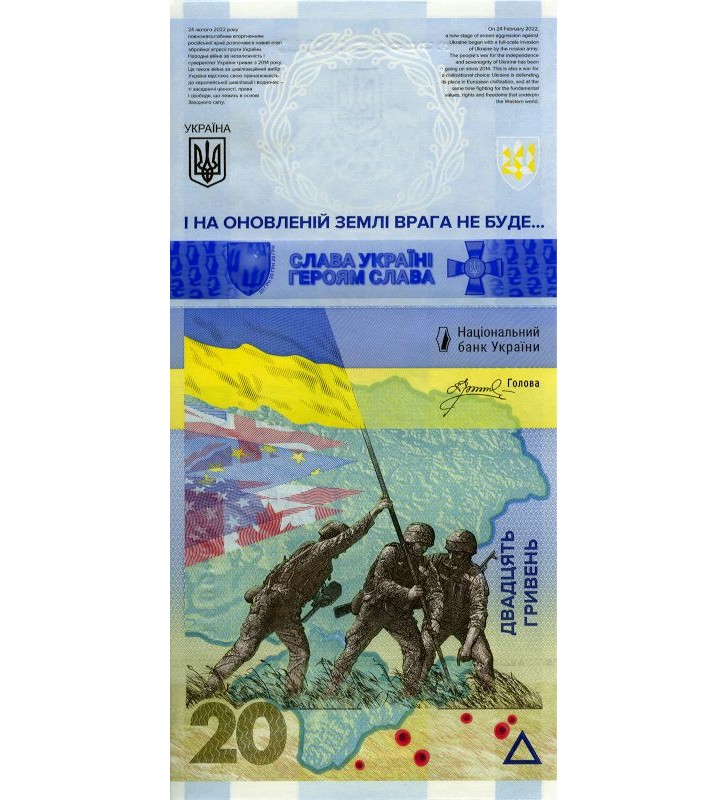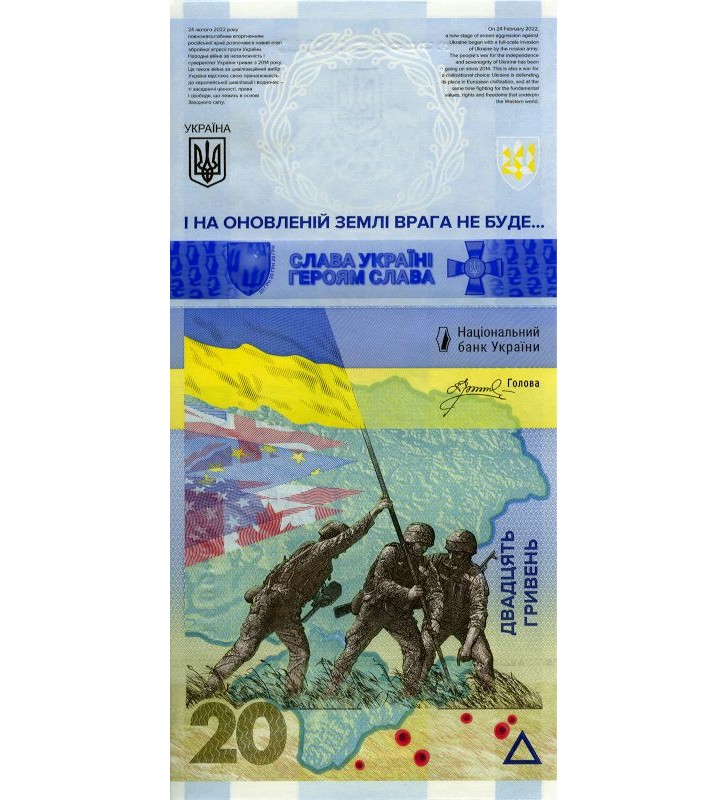 The design of the coin is illustrative and may differ from the final result.
 
Denomination

20 ₴

Country

Ukraina

Size

80 x 165 mm

Mintage

200 000 pcs

Date of issue

2023-04

Accessories

Blister

Availability

Available
SECURE SHOPPING WITH SSL CERTIFICATE
INSURED SHIPMENT / OWN COLLECTION
This banknote commemorates the steadfastness, heroism and fortitude displayed by Ukrainians in their fight against Russian invaders. February 24, 2022. Russia has launched a full-scale invasion of Ukraine, announcing a "special military operation." The actions of the aggressor state, which brutally kills large numbers of civilians, mercilessly shells and conducts airstrikes on the country and destroys infrastructure and populated areas, shock the entire civilized world! Ukraine is defending its independence, sovereignty, territorial integrity and right to life! Its victory will be a victory of goodness, justice and democracy, a victory of light over darkness.
This 20-hryvnia banknote, designed in 2023, bears the signature of Andriy Pyshnyy, Governor of the National Bank of Ukraine. The banknote measures 80 x 165 mm and has security features that are used on other circulation banknotes, plus additional optically variable security features. The main image on the front of the banknote shows Ukrainian soldiers hoisting the Ukrainian national flag against a background of fragments of a map of Ukraine and flags of countries supporting Ukraine.
The main image of the back of the banknote is a stylized composition symbolizing the physical and mental suffering of Ukrainians under occupation. The banknote is sold in a commemorative blister pack.
Review photo.
related products
Available
PLN51.75
Regular price
PLN69.00
-25%
Price
in the same series/category