GRAND CATALOG OF AUSTRALIAN AND OCEANIAN COINS 2000-2017
"Catalogues - perfect work!"
Stefan Faller, Silbertresor
"Super cool book, well done!"
Nick Karpov, First Coin Company
"Fantastic book"
Vittoria Ricciardi, The Perth Mint
"The book looks fantastic! Great job", "Its great!"
Alan Marks, Melbourne Mint
"It's absolutely breathtaking piece of catalog and book. Great job"
Marcela Johnston, Dazzling Coins
"A very nice production overall :-)"
Michael Zazzo, Art in Coins
- Do you possess a catalog of coins which you collect?
- Discover real treasures and a new beautiful world of coins!
- 9000 the most elite and technologically developed coins in one place.
- Current prices of coins
Grand Catalog of Australian and Oceanian Coins 2000 - 2017
Lukasz Rosanowski
Edited by: Anita Jaworska
Format A4
360 pages
9000 coins
14000 colorful pictures
The Grand Catalog was created with the newest Australian and Oceanian coins in mind. It aims at discovering and ordering coins from this part of the world. Those coins take up universal and diverse topics, providing lots of emotions which is why they are collected by collectors all over the world. They distinguish in low mintages, beautiful and meticulous accomplishment with the usage of the newest mint techniques. Without a shadow of a doubt those are the most beautiful and elite coins of the world.
Content:
The catalog includes 9000 circulation, commemorative, bullion and collector coins from Australia, New Zealand, Niue, Cook Islands, Tuvalu, Fiji, Palau, Papua New Guinea, Nauru, Solomon Islands, Samoa, Kiribati, Vanuatu etc. Those coins were minted in: Perth Mint, Royal Australian Mint, New Zealand Mint, Mint of Poland, PAMP, Royal Canadian Mint, Mint of Finland, Mayer Mint, Helvetic int etc. They were accomplished with the most developed techniques. The catalog consists of three parts: Series, Bullion coins, Countries.
It took three years to create the catalog. It is the most complete and a vast catalog concerning coins from this part of the world.
FULL SCREEN PRESENTATION OF CATALOG - CLICK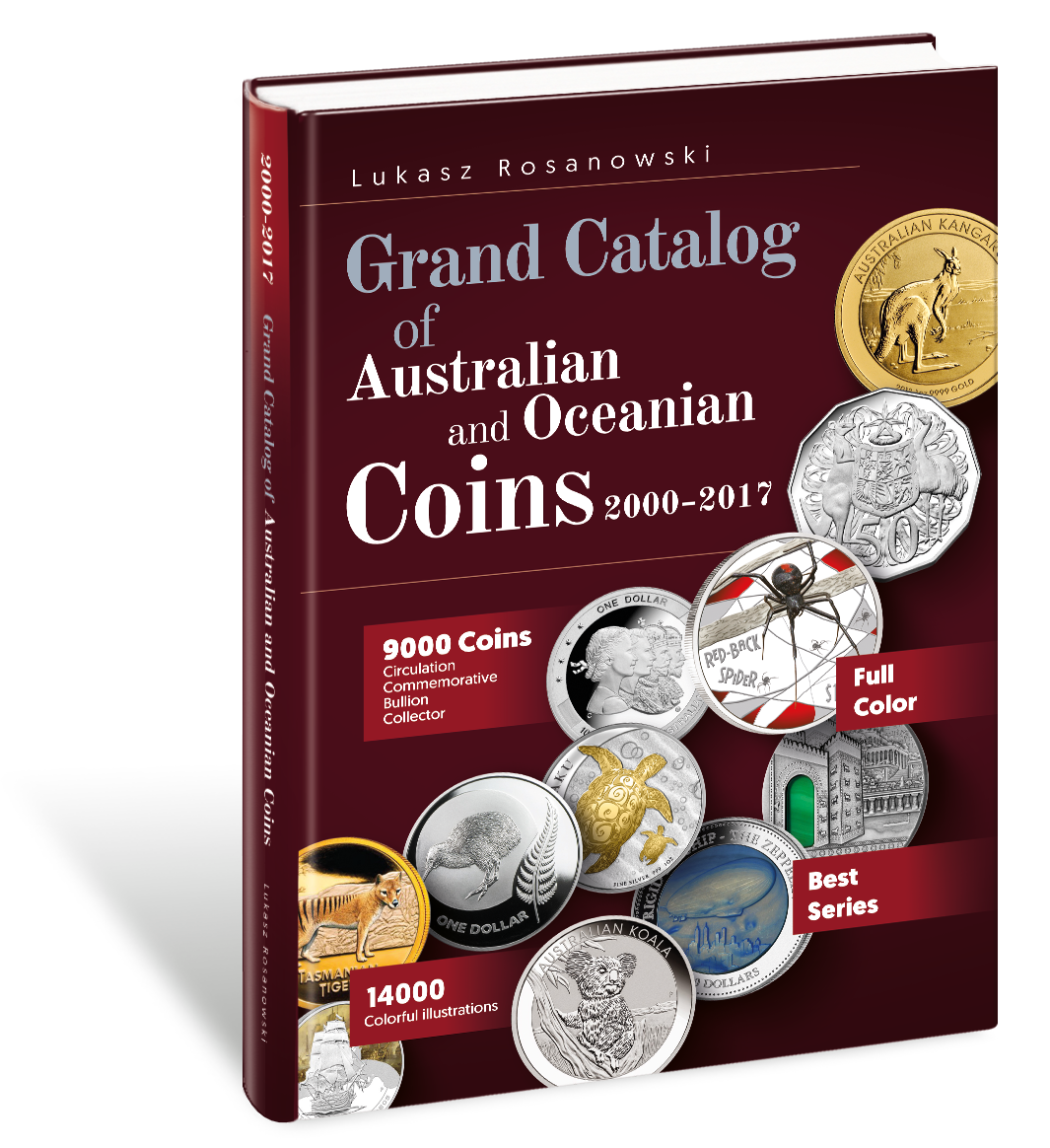 MOVIE PRESENTATION: