SET: banknote Cyberpunk + banknote Silkpunk - The Punk Universe
2 x Collector's banknote, 9 security features against counterfeiting
Soon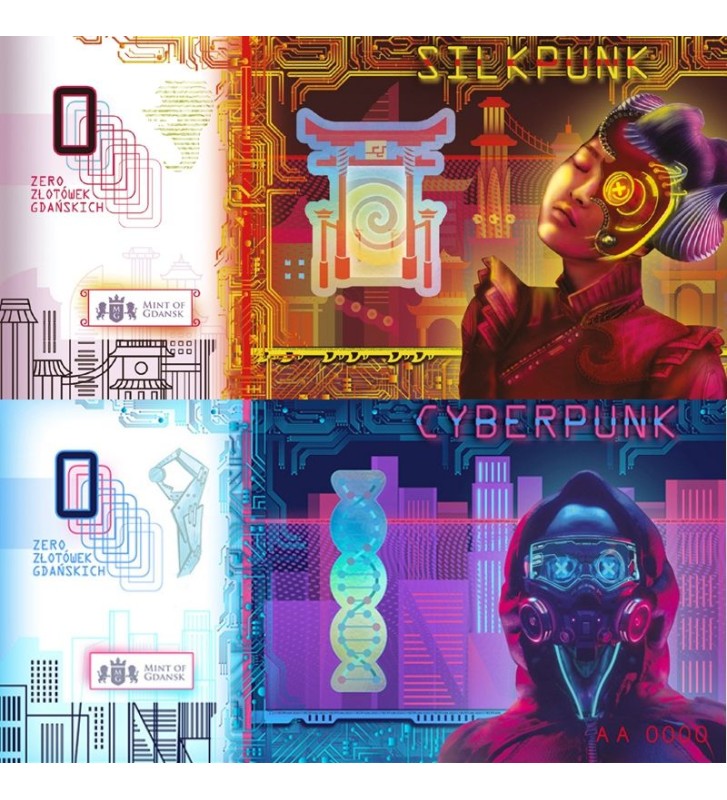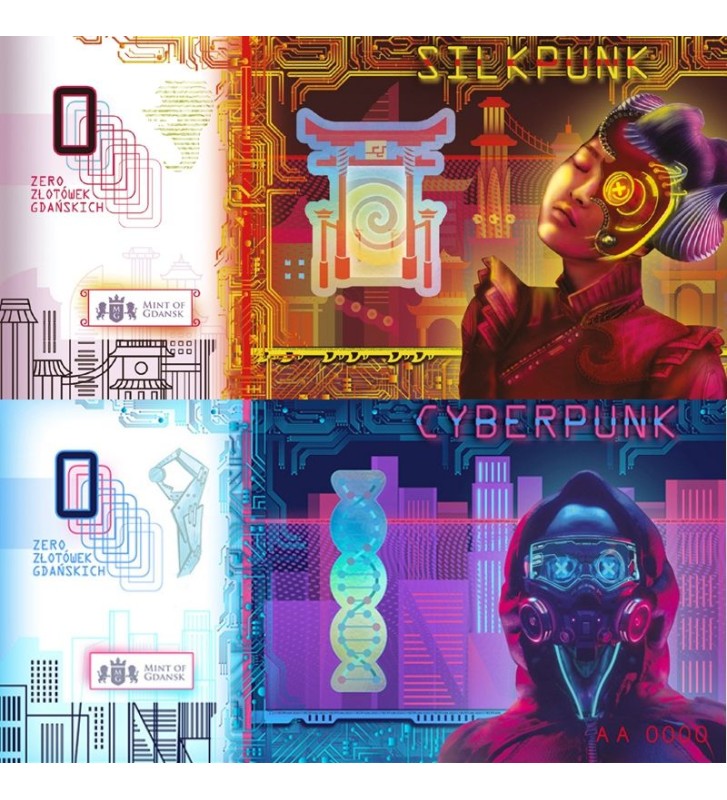  
Country

Poland

Size

140 x 70 mm

Additions

Printing UV

Additions

Fluorescent Printing

Additions

Hologram

Mintage

5000 pcs

Accessories

Case, Security features

Series

The Punk Universe
SECURE SHOPPING WITH SSL CERTIFICATE
INSURED SHIPMENT / OWN COLLECTION
ATTENTION: When purchasing this item, there is a limit: 20 pcs (the maximum amount allowed in all customer purchases).
A unique set created from two collector's vouchers from "The Punk Universe" series.
Create a new chapter in modern numismatics!
This collector bons perfectly reflects the nature of the science-fiction trend.
It has been secured with specialist, innovative techniques, both on the reverse and the obverse. The PWPW paper guarantees the security of the data and proves the individuality of the product.
The mintage is strictly limited - only 5000 pieces worldwide.
The new products refers in its denomination to the old Gdansk currency - Złotówki Gdańskie. Inspired by the Mahatma Gandhi's anti-corruption 0 Rupee banknote, we have created a Polish equivalent which draws attention to the demoralising problems of the modern world, regardless of position or position. The bon also carries an anti-inflationary message and is not legal tender in Poland.
The copies have been protected by a number of different techniques:
-UV active image,
-microtext,
-signature,
-hologram,
-watermark,
-daylight saving fibres,
-UV active protection fibers,
-chemical security features,
-UV active typographic numbering.
These banknotes are a collectible combination of tradition and modernity!
The term Silkpunk describes a genre of a mixture of science fiction and fantasy that draws inspiration from ancient East Asia. It focuses on technologies and devices made from natural materials of historical significance to East Asian and Pacific Islanders, such as bamboo, shell, coral, paper or silk. It is based on bionics - the science of imitating the way nature behaves and functions - and aims to construct better machines or materials by using solutions created by nature during millions of years of evolution.
The word "cyberpunk" describes a sub-genre of science fiction. It is characterized by several main features: it describes a high-tech future in which humans coexist with cyborgs in a virtual reality. The dystopian image of society is well-described as "high tech & low life". The future in cyberpunk is pessimistic, dark, full of moral destruction, where the advanced technology is often the source of problems and causes more harm than good. Cyberpunk shows how the environment of advanced technology impacts the humans in the worst possible way. The book "Neuromancer" by William Gibson, published in 1984, is considered to have started the trend.
This genre is also often described by the three principle - City, Mass, Machine. Action of books or movies usually takes place in huge, overcrowded metropolis, where technology has demoralized people, destroying relations between them.
The photos of the banknotes are for reference. The banknotes in reality may vary slightly.
related products
Available
Collector's banknote, 9 security features against counterfeiting
Available
Soon
Collector's banknote, 9 security features against counterfeiting
in the same series/category