The Spirit of the Nations set: Fighting Ukraine + Poland and Ukraine Brotherhood
To order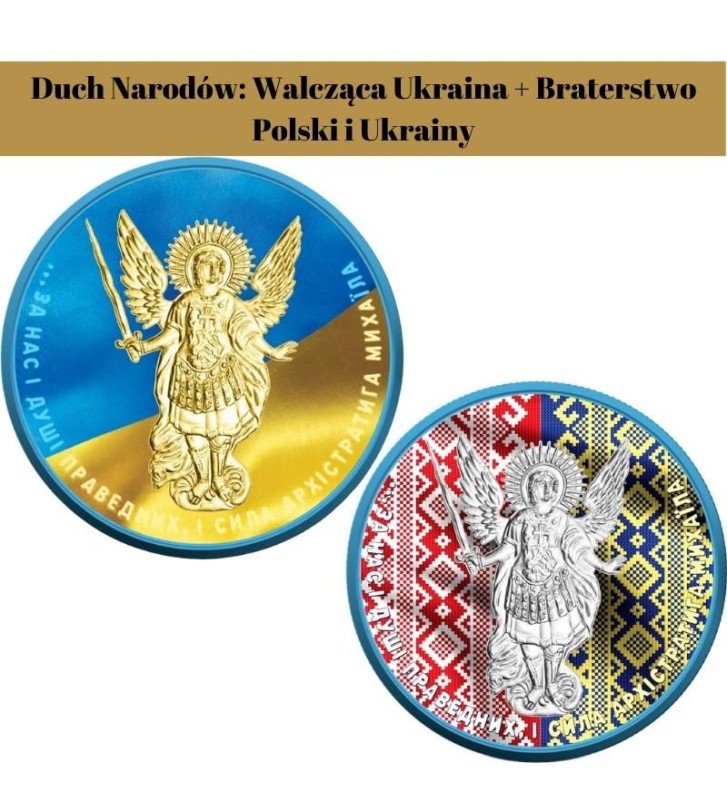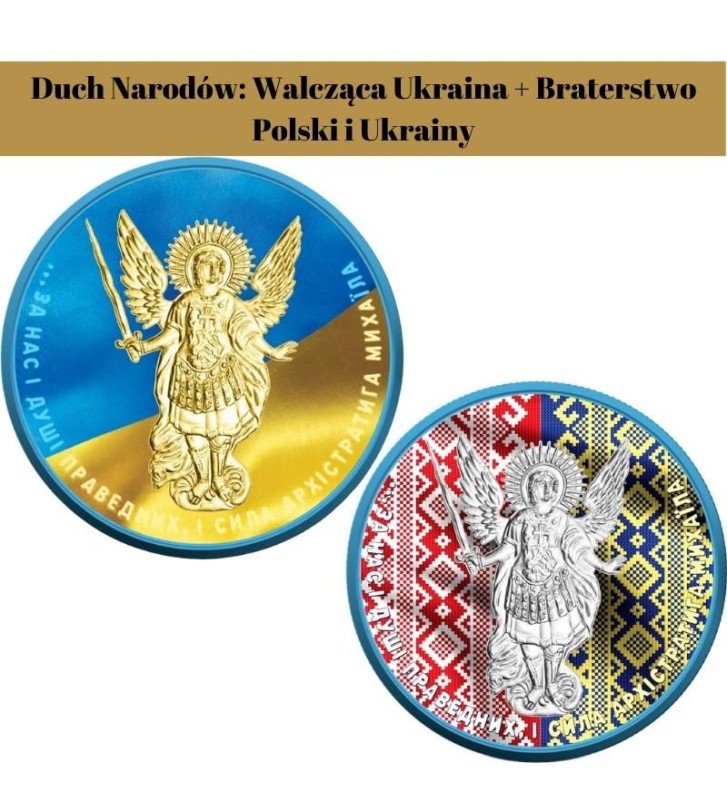  
Denomination

1 Hryvnia

Country

Ukraina

Metal

Ag 999

Weight

31,1 g

Size

Ø 38,6

Quality

BU

Additions

Selective gold plating

Additions

Space Printing

Mintage

200 pcs

Date of issue

2022-12

Accessories

Certificate, Box

Series

The Spirit of the Nations
SECURE SHOPPING WITH SSL CERTIFICATE
INSURED SHIPMENT / OWN COLLECTION
The set consist of te two coins the "Spirit of the Nations" series! The set is dedicated to Ukraine, which is currently struggling for the freedom of its citizens.
This beautifully engraved coins show the figure of Archangel Michael in the coat of arms of Kiev.
The reverse shows the figure of Archangel Michael with his wings spread out and his sword stretched out. The whole is surrounded by an inscription in Ukrainian "for us and the souls of righteous people". On the obverse, at the very top, there is the coat of arms of Ukraine. In the center of the octagonal cartouche, on the shield, there is the logo of the National Bank of Ukraine. This emblem symbolizes the protection and increase of the state gold reserves. 
The coins are decorated with a special Space colour technique, which forms the background of the obverse. The flag of Ukraine on the reverse of the first coin was created using UV printing. Additionally, Archangel Michael has been plated in pure gold. Embroidery in the colors of the Ukrainian and Polish flags on the reverse on the second coin was created using UV printing.
The mintage of the each coin is only 200 pieces and the whole coin is delivered in an elegant wooden box, together with a certificate of authenticity.
in the same series/category