Set: Speed of Light + Immortality
2 x 2 oz Ag 999 Fluorescent
To order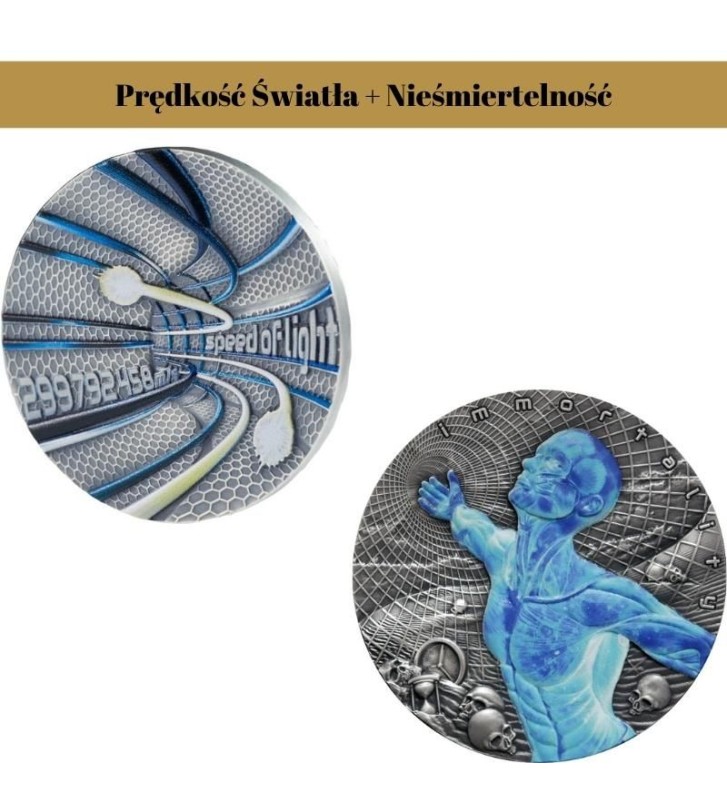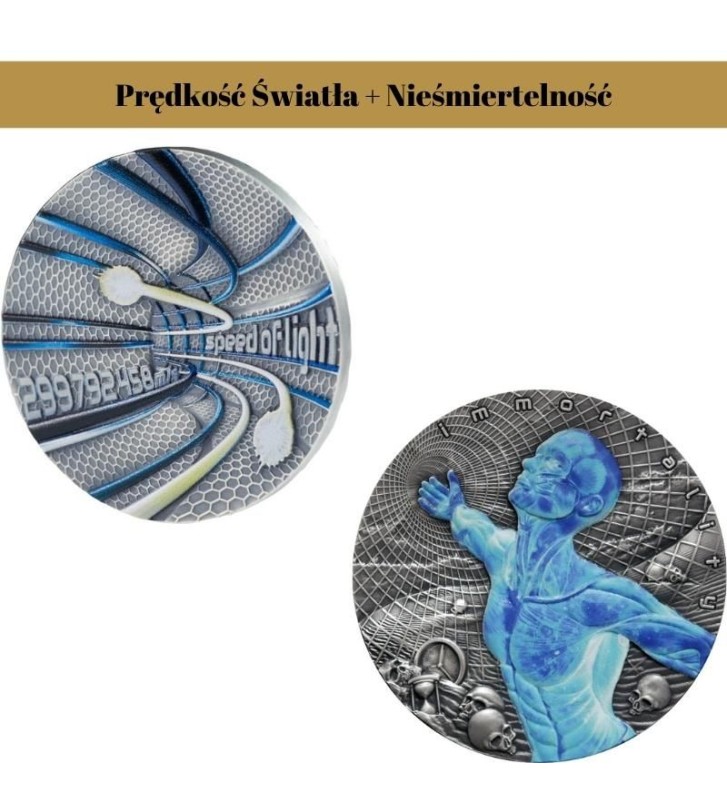  
Denomination

2 $

Country

Niue Island

Metal

Ag 999

Weight

62,2 g

Size

Ø 50 mm

Quality

Antique Finish

Additions

Printing UV

Additions

Fluorescent Printing

Additions

High Relief

Mintage

500 pcs

Accessories

Certificate, Box

Series

Code of the Future
SECURE SHOPPING WITH SSL CERTIFICATE
INSURED SHIPMENT / OWN COLLECTION
A unique set of individually unavailable coins from the "Code of the Future" series! This is a great bargain, also in terms of price: you save 540 PLN!
1. The Speed of Light is a symbol of the human struggle with the forces of nature and attempts to classify them. It is based on the famous Einstein's theory of relativity and the whole modern physics. A few centuries took to develop methods of measuring the speed of light, the final physical constant was defined as c = 299 792 458 m / s.
Scientists are still unsuccessfully trying to discover the matter, which will be moving faster than the speed of light, but if ever they succeed, the basics of currently known physics will be breaken.

Only 500 pieces worldwide!
2. The subject of immortality is very controversial, and at the same time it has been discussed in principle since the beginning of mankind's existence. Ancient priests, medieval alchemists, modern molecular biologists - everyone tries to create a true Philosopher's Stone.
Today we witness the enormous progress that has been made in recent years at the crossroads of medicine and technology. This progress means that we are overcoming new barriers. Will another one be immortality?
This two-tiered coin has gained a futuristic image through the use of several techniques:
- It has been oxidised so that every detail of the reverse is clearly visible, especially the background symbolising the passing of time.
- Selective UV printing highlights the human body composed of chemicals that degrade over time.
- The most interesting technique is the use of selective fluorescent printing, thanks to which the modernity of this unusual coin can be seen in the darkness.
The obverse adorns the image of human DNA, which in the future may be modified to provide people with eternal life.
This coin is delivered in a thematic packaging together with a certificate of authenticity. The mintage is limited to 500 pieces!
in the same series/category