0 Euro The Kaminski Family Printing Museum in Radomsko
Available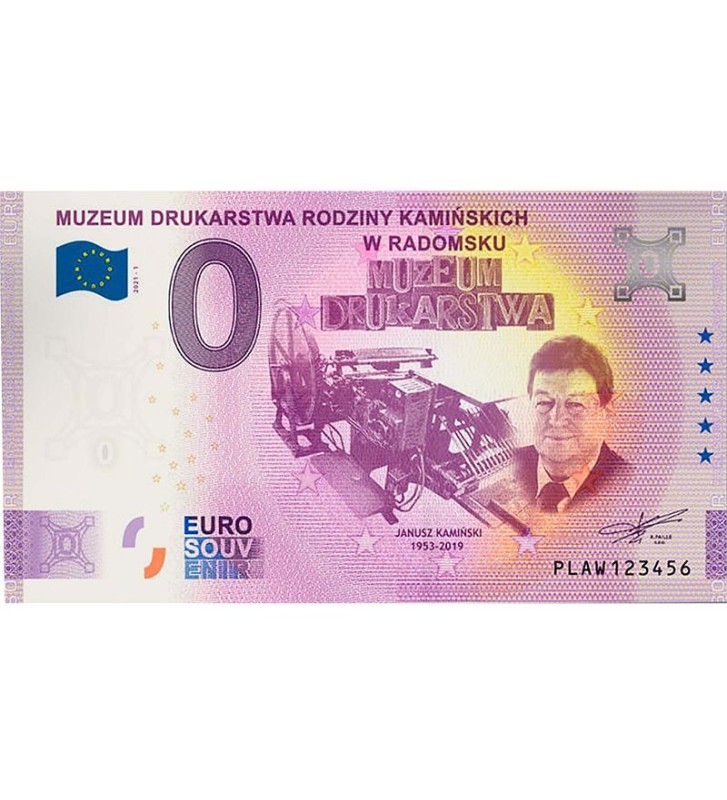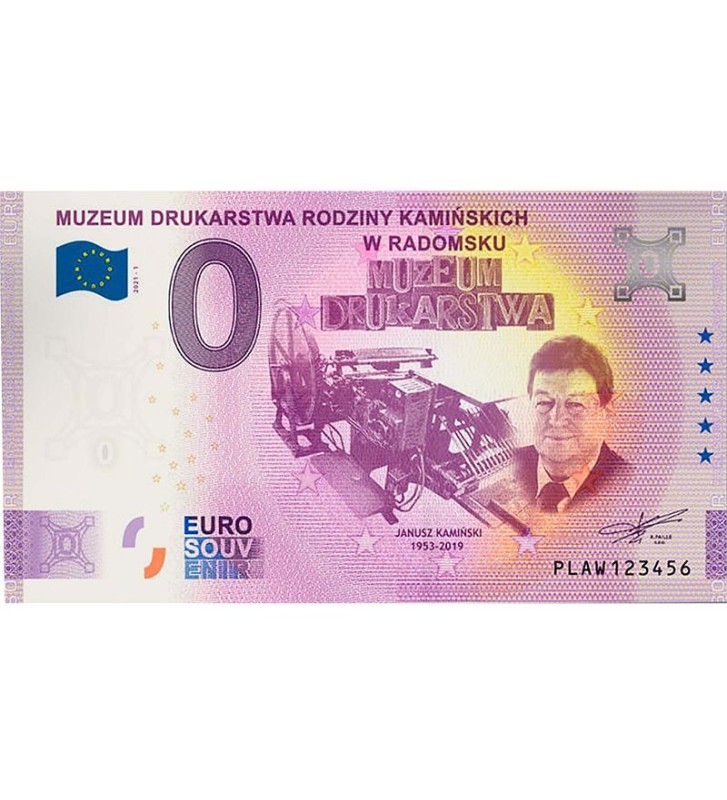 The design of the coin is illustrative and may differ from the final result.
 
Denomination

0 €

Country

Poland

Size

135 x 74 mm

Mintage

4000 pcs

Date of issue

2021-11

Availability

Available
SECURE SHOPPING WITH SSL CERTIFICATE
INSURED SHIPMENT / OWN COLLECTION
One-of-a-kind € 0 banknote.
The 0 Euro Souvenir banknote is a project that was launched in 2015 in France and has spread throughout Europe. The banknote is made of 100% cotton paper, which is the same paper as the original euro banknotes. It contains many safeguards against forgery, including hologram, watermark, microprint, UV protection elements etc.
The Kaminski Brothers Printing Museum is run by the Association for the Dissemination of Knowledge about the Tradition and History of Printing. It is the fulfillment of Janusz Kamiński's dream, where you can "touch" the history of printing houses not only in Radomsko. The museum is based on exhibits from private collections and those acquired through repurchase from other printing houses, where the machines are worn out and have not been involved in active printing for a long time. On site, you can see most of the exhibits in working order, feel the magic of working in the printing house, listen to the sounds made by the machines. The exhibits also include reeds, matrices and many other devices needed for traditional printing.
related products
Available
PLN64.35
Regular price
PLN99.00
-35%
Price
Available
PLN52.15
Regular price
PLN149.00
-65%
Price
Available
PLN27.65
Regular price
PLN79.00
-65%
Price
in the same series/category