0 euro 100 years of the Museum of Post and Telecommunications 2021
Available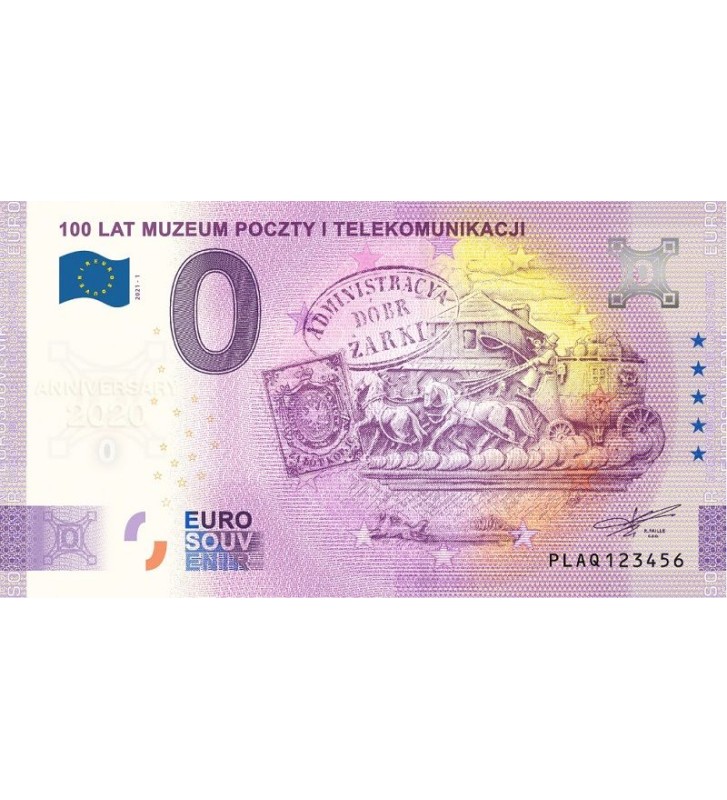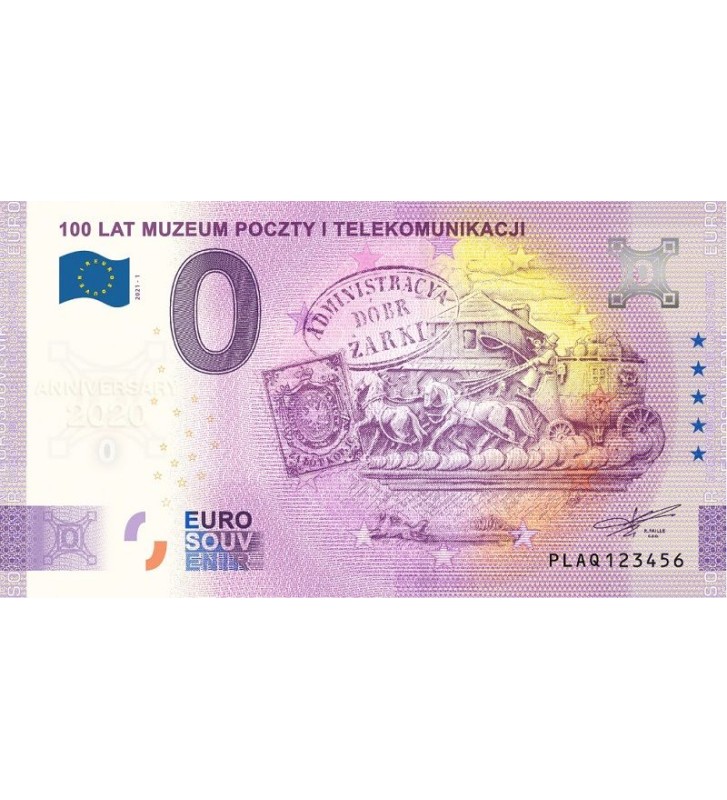 The design of the coin is illustrative and may differ from the final result.
 
Denomination

0 €

Country

Poland

Size

135 x 74 mm

Mintage

4000 pcs

Date of issue

2021-06

Accessories

Blister

Series

0 euro

Dostępność

Dostępny
SECURE SHOPPING WITH SSL CERTIFICATE
INSURED SHIPMENT / OWN COLLECTION
A unique EUR 0 banknote.
The 0 Euro Souvenir banknote is a project that was launched in France in 2015 and has spread across Europe. The banknote is made from 100% cotton paper, which is used to produce the original euro banknotes. It contains a number of anti-counterfeiting features, including a hologram, watermark, microprinting, UV protection elements, etc.
The Museum of Post and Telecommunications in Wrocław is the only museum in Poland which collects and protects historical monuments testifying to the activity of the Polish postal service, including the Polish Post established by King Zygmunt August in 1558. 
The front of the banknote features an image of the medal from the 5th National Philatelic Exhibition in Warsaw in 1938. - A speeding stagecoach, harnessed to four horses, passing a roadside inn. 
in the same series/category
Available
Available
PLN71.55
Regular price
PLN159.00
-55%
Price
Available
PLN44.55
Regular price
PLN99.00
-55%
Price
Available
Collector's banknote, 9 security features against counterfeiting, RADAR
Available
PLN71.28
Regular price
PLN99.00
-28%
Price
Available
PLN19.00
Regular price
PLN69.00
Price
7 working days
Available
PLN31.05
Regular price
PLN69.00
-55%
Price
Available
PLN31.05
Regular price
PLN69.00
-55%
Price
Available
PLN31.05
Regular price
PLN69.00
-55%
Price
Available
PLN27.60
Regular price
PLN69.00
-60%
Price
Available
Available
PLN31.05
Regular price
PLN69.00
-55%
Price
Available
PLN31.05
Regular price
PLN69.00
-55%
Price
Available
PLN31.05
Regular price
PLN69.00
-55%
Price
Available