0 Euro Górski's Eagles, Jan Benigier
Available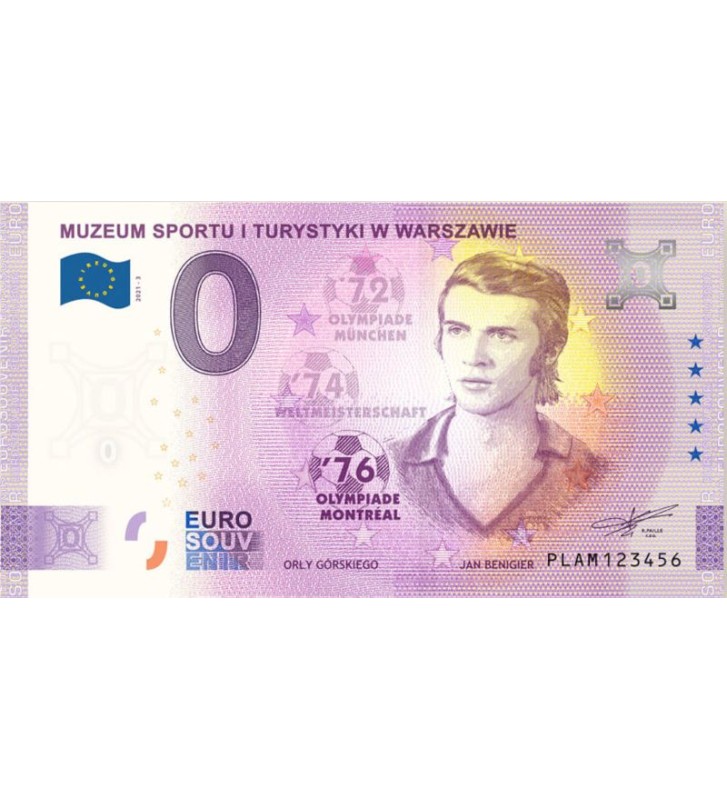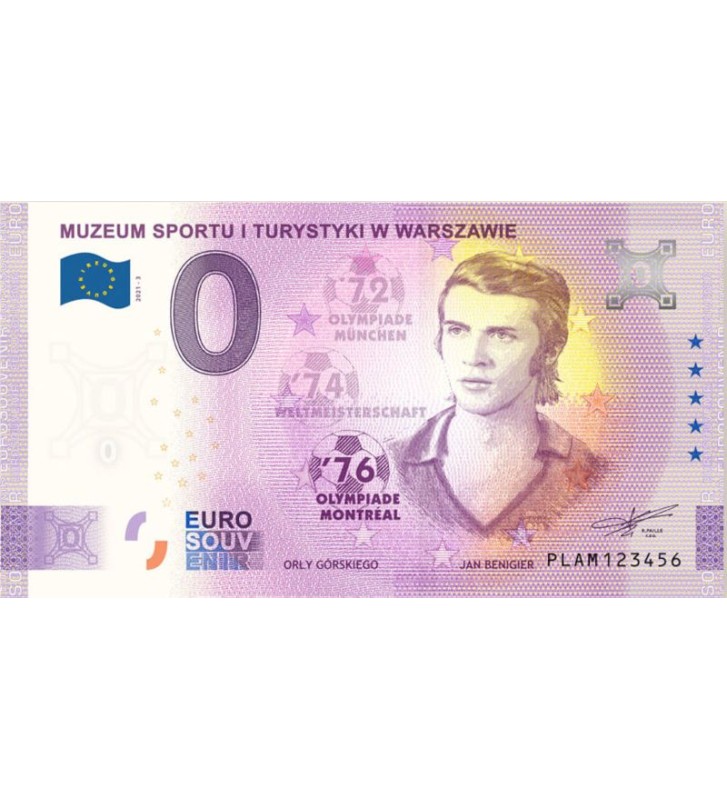 The design of the coin is illustrative and may differ from the final result.
 
Denomination

0 €

Country

Poland

Size

135 x 74 mm

Mintage

5000 pcs

Date of issue

2021-05

Accessories

Blister

Series

0 euro

Dostępność

Dostępny
SECURE SHOPPING WITH SSL CERTIFICATE
INSURED SHIPMENT / OWN COLLECTION
A unique EUR 0 banknote.
The 0 Euro Souvenir banknote is a project that was launched in France in 2015 and has spread across Europe. The banknote is made from 100% cotton paper, which is used to produce the original euro banknotes. It contains a number of anti-counterfeiting features, including a hologram, watermark, microprinting, UV protection elements, etc.
Górski's Eagles is a team made up of former football players who played recreationally in the 1990s and early 2000s, taking their name from a popular term for the Polish national football team from the years of its greatest glory (the 1970s). The team played for a long time under the leadership of Kazimierz Górski.
Jan Benigier is a former Polish footballer playing the position of striker. A four-time representative of Poland, he made his debut in a match against Argentina (1976) and finished playing for the national team during a match against Iran (1976). After the end of his playing career, he was a coach (the opinion has it that he is a coach who saves football teams threatened with relegation to lower classes), an activist and a football referee. Sports Master, honoured, among others, with the Silver Medal for Outstanding Sports Achievements and the Silver Cross of Merit.
related products
Available
Available
Available
in the same series/category
Available
PLN44.85
Regular price
PLN69.00
-35%
Price
Available
Collector's banknote, 9 security features against counterfeiting, number sequence
Available
PLN35.55
Regular price
PLN79.00
-55%
Price
Available
PLN299.14
Regular price
PLN332.38
-10%
Price
Available
PLN31.05
Regular price
PLN69.00
-55%
Price
Available
PLN31.05
Regular price
PLN69.00
-55%
Price
Available
PLN34.50
Regular price
PLN69.00
-50%
Price
Available
PLN35.55
Regular price
PLN79.00
-55%
Price
Available
Available
PLN31.05
Regular price
PLN69.00
-55%
Price
Available
PLN44.55
Regular price
PLN99.00
-55%
Price
Available
PLN31.05
Regular price
PLN69.00
-55%
Price
Available
PLN24.15
Regular price
PLN69.00
-65%
Price
Available
PLN35.55
Regular price
PLN79.00
-55%
Price
7 working days
Available
PLN31.05
Regular price
PLN69.00
-55%
Price