GUAN YU - CHINESE HEROES
We present the first coin from the "Chinese Heroes" series!
 The ideas for collector coins are endless. We can be inspired by world history, pop culture, geology, natural phenomena, etc. This time we decided to create a series of coins that will present the most famous heroes of ancient China. 
1. Guan Yu - legend of the god of martial arts 
In ancient China, Guan Yu was a friend of Liu Bei, ruler of the war-torn Three Kingdoms. Guan Yu swore an oath that he would fight for the good of his country, in the name of creating a new, righteous world. He fought countless battles during which, through his bravery and loyalty, he became known as a man of battle and honor. According to legend, after Guan Yu's death, his spirit remained in a temple near Mount Yuquan to support and help the inhabitants to defend themselves against the invaders. For this reason, Guana Yu is considered a god of martial arts. He is now the embodiment of the virtues according to which he led his life. The monuments of this hero are meant to protect him from evil, and his images represent loyalty and trust. 
2. Guan Yu - coin 
This coin was struck from fine silver. It weighs 2 troy ounces (62.2 g) and has a diameter of 45 mm. The reverse of the coin is decorated with a high relief with a beautiful engraving depicting Guana Yu together with Chinese dragons and demons. The specific weapon of this Chinese martial arts god has been gilded.
Traditional Chinese ornaments were engraved on the obverse. The coin can be purchased [

under this link

 ].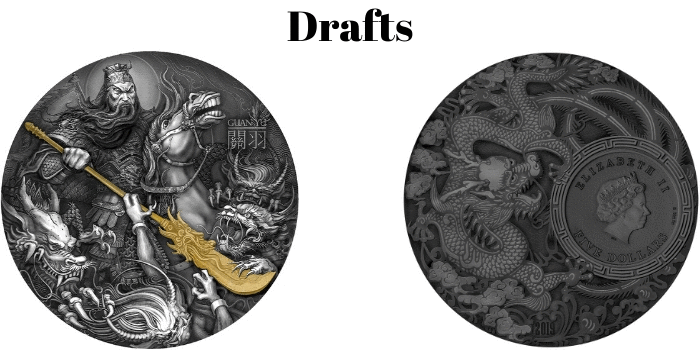 Drafts
3D Design
Photos
We also encourage you to watch the film presenting our coin.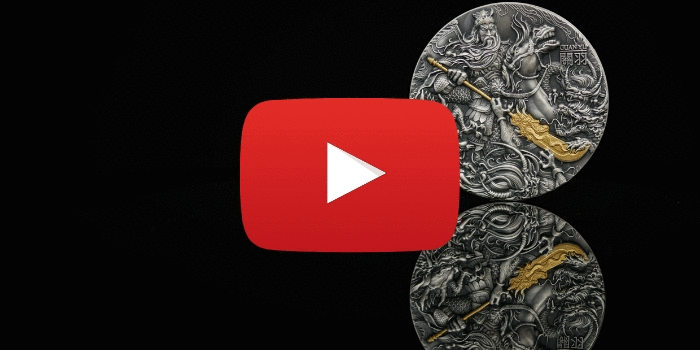 Author: Izabela Lemańczyk