50€ Stanisław Lem, Master of Science Fiction
Available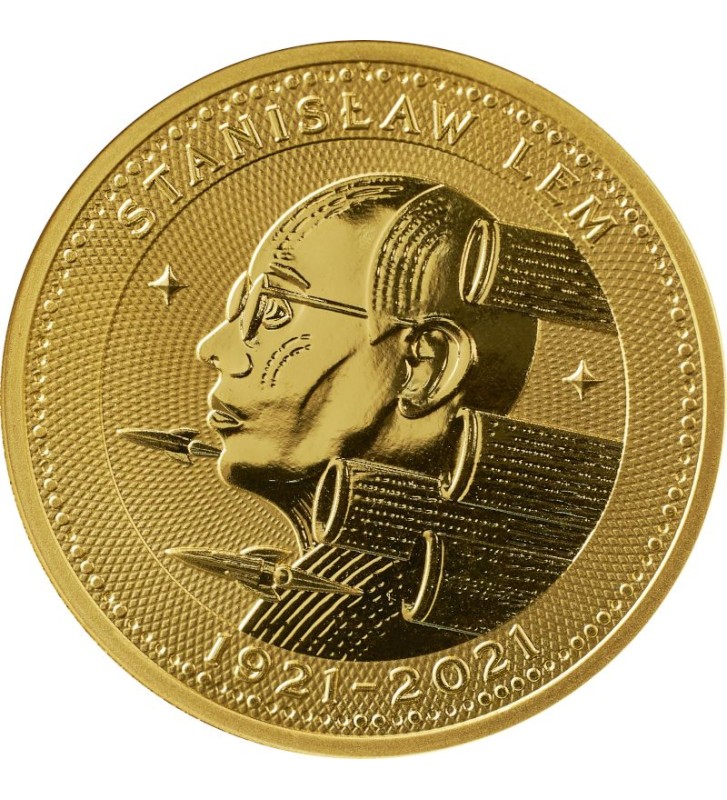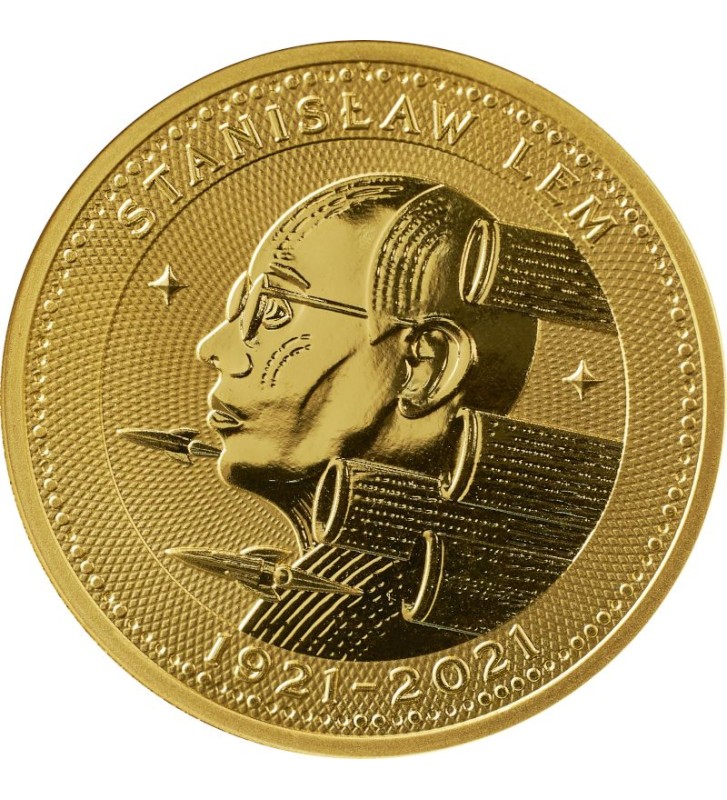 The design of the coin is illustrative and may differ from the final result.
 
Denomination

50 €

Country

Malta

Metal

Au 9999

Weight

31,1 g

Size

Ø 32 mm

Quality

Proof

Additions

Numbered Edge

Mintage

100 pcs

Date of issue

2023-02

Accessories

Certificate, Box

Series

Stanisław Lem, Master of Science Fiction

Availability

Available
SECURE SHOPPING WITH SSL CERTIFICATE
INSURED SHIPMENT / OWN COLLECTION
ATTENTION: When purchasing this item, there is a limit: 3 pcs. (the maximum amount allowed in all customer purchases).
The price of the product is variable: until March 31, the coin costs PLN 11999. From April 1, the price will increase to PLN 12999.
Lemismatics applied to gold!
For the first time in history, Stanislaw Lem has been immortalised on a gold coin! 
The world's first gold coins in the series "Stanislaw Lem, Master of Science Fiction". The combination of valuable bullion and the global science-fiction phenomenon is a recipe for a successful investment.
The coin was struck from 1 ounces of pure gold in a limited mintage of only 100 pieces worldwide! This factor makes it an excellent collector's coin. The reverse of the coin features a profile of Stanisław Lem according to a photograph from the 1960s, when he celebrated his greatest triumphs and when his most important novels and collections of short stories were written.
The coin is packaged in an elegant wooden box (natural wood, boxes may differ in appearance) with a certificate attesting to its authenticity.
Stanisław Lem was a Polish writer of the hard science-fiction genre, philosopher and futurologist. He was born on 12 September 1921 in Lviv and died on 27 March 2006 in Krakow. His works dealt with such topics as the development of science and technology, human nature, the possibility of communication between intelligent beings and the place of man in the Universe. Lem's works contain references to the state of society and scientific and philosophical reflections on it. In addition to science fiction stories, such as 'The Star Diaries' or the Pilot Pirx adventure series, Lem's oeuvre includes detective novels ('Investigation'), futurological essays and treatises (e.g. 'Summa technologiae'), poetry, screenplays for radio plays, films or dramas, as well as the unique space fairy tale 'The Robot Fairy Tales'. One of the many expressions of international recognition of Stanisław Lem's work was the naming of the asteroid discovered in September 1970 after him, as well as the first scientific satellite built entirely in Poland. In Poland, Stanisław Lem's books are published by Wydawnictwo Literackie, with which the writer has been associated for almost his entire career.
The photos of the coin are for reference. The coin in reality may vary slightly.
related products
To order
Available
To order
in the same series/category
To order
To order
To order
Soon
Available
PLN5,276.00
Regular price
PLN6,596.00
Price
To order
To order
Soon
PLN1,139.05
Regular price
PLN1,199.00
-5%
Price
To order
2 oz Ag 999 Multilayered 3D Glass
To order
Available
To order
Soon
To order
Available
Collector's banknote, 9 security features against counterfeiting
Available
2 oz Ag 999 Wooden Insert