50$ Blood of Elves - The Witcher Book Series
To order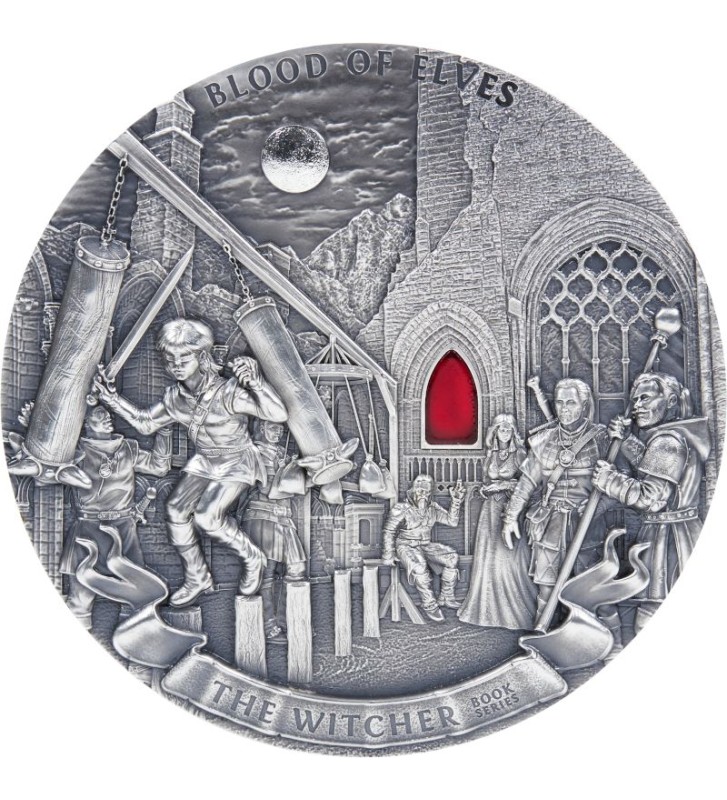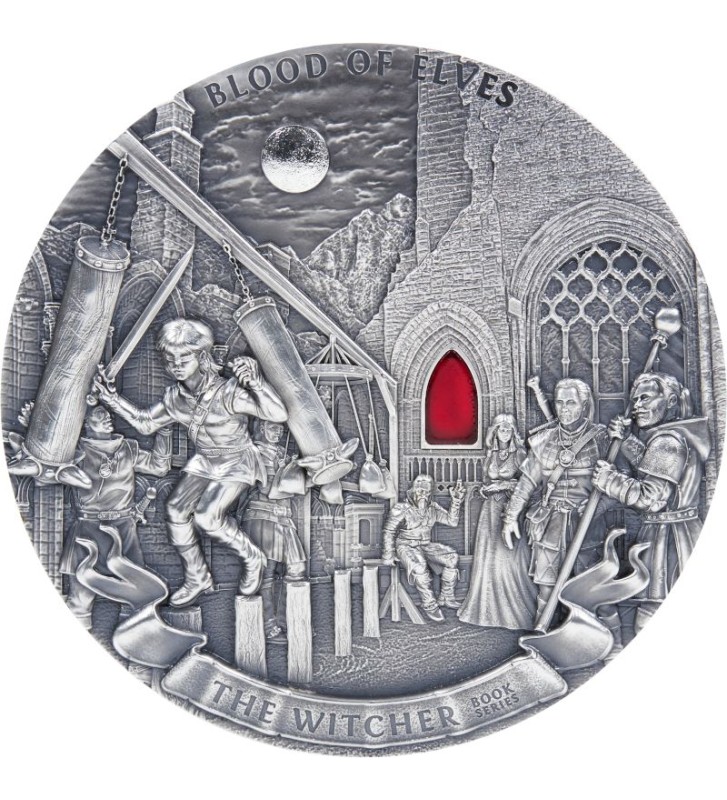 The design of the coin is illustrative and may differ from the final result.
 
Denomination

50 $

Country

Niue Island

Metal

Ag 999

Weight

1 kg

Size

Ø 100 mm

Quality

Antique Finish

Additions

Agate

Additions

High Relief

Mintage

200 pcs

Date of issue

2022-02

Accessories

Certificate, Box

Series

The Witcher Book Series

Availability

To order
SECURE SHOPPING WITH SSL CERTIFICATE
INSURED SHIPMENT / OWN COLLECTION
Return of the White Wolf! Experience the next amazing adventures of the White Wolf minted in the purest silver! Each coin from the "The Witcher Book Series" sells out in a flash and additionally gains in value. 
This year we present the third issue of the coin, Blood of Elves.
The Witcher Book Series returns in a one-kilogram version of the Blood of Elves coin, made of the finest 999 silver, with an impressive diameter of 100 mm! The reverse shows the scene of Ciri's training in Kaer Morhen. She was training on a "pendulum" - this was an obstacle course on which all witches trained. Besides White Wolf, Ciri was also trained by Vesemir, Cöen, Lambert and Eskel. The witchers taught Ciri how to fight, while the sorceress Triss Merigold made sure Ciri understood magic.
Every detail is perfectly visible thanks to the exceptionally high relief, which is as high as 3.6 mm. Both the obverse and the reverse of the coin are eye-catching thanks to their red agate, which imitates the window of the fortress on the reverse and the gate to Kaer Morhen on the obverse. 

On the obverse, looking from the top, we see the name of the stronghold, which is the headquarters of the Witcher school of the Wolf guild. Below the inscription is the entrance gate to the stronghold. The mountains in Kaedwen are placed in the background. 
The mintage of the kilogram coin is limited - only 200 pieces! The elegant box reflects the uniqueness of the coin. The wooden box has been varnished to a high gloss, and the engraving on the front is covered in red, referring to the color of the agate.
Please visit our >> blog <<, where we explain the full symbolism of the coin's design, as well as describe the characters featured on it. 
Issue plan (may be subject to change):
1. The Last Wish 
2. Sword of Destiny 
3. Blood of Elves 
4. Time of Contempt 
5. Baptism of Fire
6. The Tower of the Swallow 
7. The Lady of the Lake 
8. Season of Storms 
Drafts:
in the same series/category
To order
Available
To order
Soon
To order
Available
Soon
Available
To order
To order
To order
To order
Available
5 oz Ag 999 Mother of Pearl
PLN2,005.15
Regular price
PLN2,359.00
-15%
Price
Available
PLN2,158.00
Regular price
PLN2,698.00
Price
To order
Soon
PLN3,200.00
Regular price
PLN3,647.00
Price