To order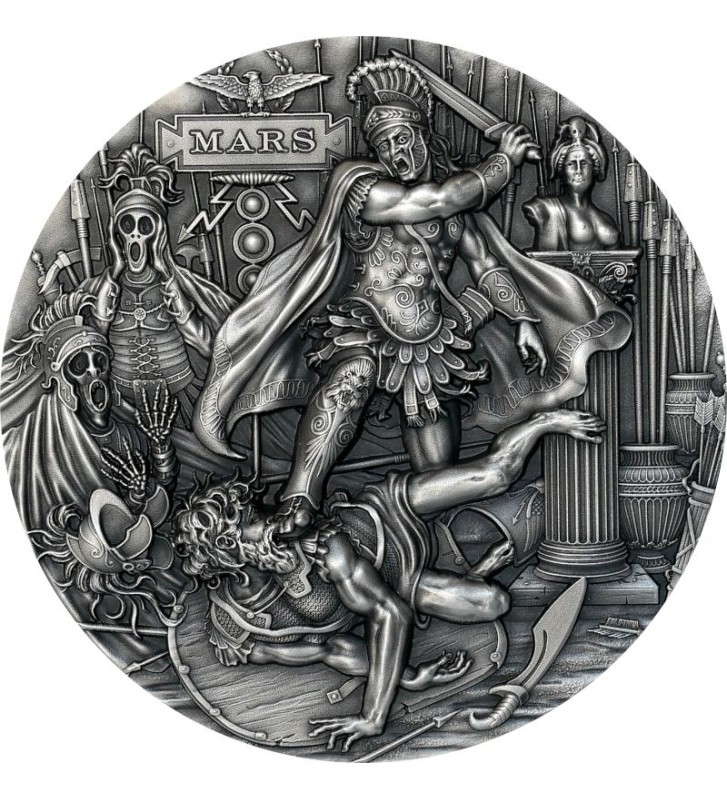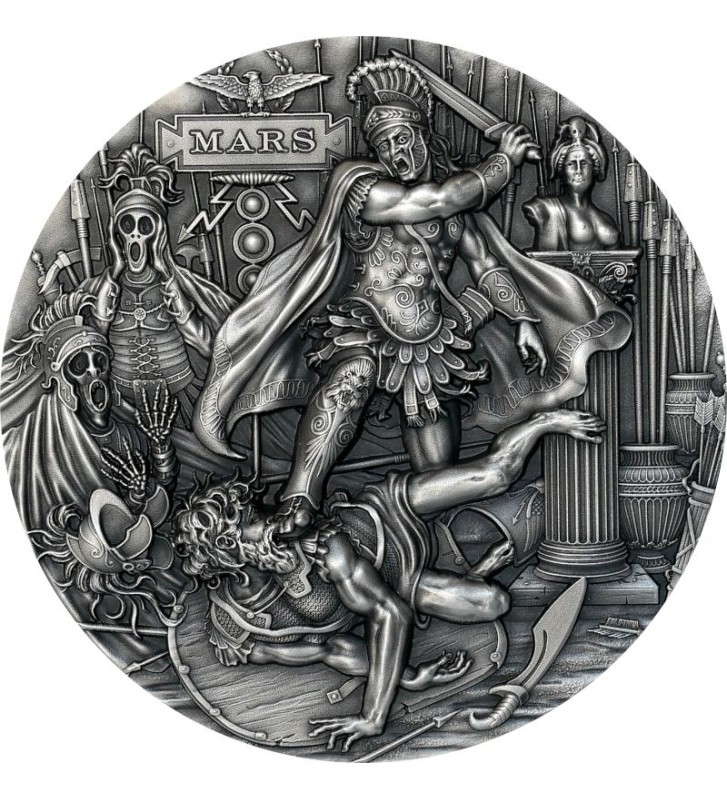 The design of the coin is illustrative and may differ from the final result.
 
Denomination

2 $

Country

Niue Island

Metal

Ag 999

Weight

62,2 g

Size

Ø 50 mm

Quality

Antique Finish

Additions

High Relief

Mintage

500 pcs

Date of issue

2021-09

Accessories

Certificate, Box

Series

Roman Gods

Dostępność

Na zamówienie
SECURE SHOPPING WITH SSL CERTIFICATE
INSURED SHIPMENT / OWN COLLECTION
Mars is the third coin in the series of oxidised twoounce coins "Roman Gods". 
Mars - Roman god of rage, passion, destruction and war. As a fundamental deity, Mars had a mythology closely related to the Roman city-state. Mars ruled early Rome as part of the Archaic Triad, the male ruling triumvirate that also included Jupiter and Quirin (the deified Romulus). The early Romans worshiped Mars as a great raging god whose fury inspired the savagery of war and brought about the stunning achievements of Roman weapons. As Rome moved from city-states to empire and overtly embraced Greek cultural values, Mars lost its prominent position in the Roman pantheon to Minerva, goddess of tactical and strategic warfare.
The reverse of the coin depicts the god of war killing his victim who lies at his feet. The battle scene is shown in a dynamic manner, the posture of the main figure indicates strength, attack and ruthlessness. In the background you can see the battle scene and the terrified soldiers who are watching the fight.
The obverse features Queen Elizabeth II.
Please visit our >> blog << to read why "Mars" is an excellent investment!
Drafts:
3D Desgins:
related products
To order
To order
Available
in the same series/category
To order
Soon
Available
Available
PLN1,163.65
Regular price
PLN1,369.00
-15%
Price
Available
To order
2 oz Ag 999 movable propeller
Available
To order
Available
To order
Available
PLN74.00
Regular price
PLN89.00
Price
To order
To order
To order
Available
Available