5 Mark Hildegard - Valkyries
To order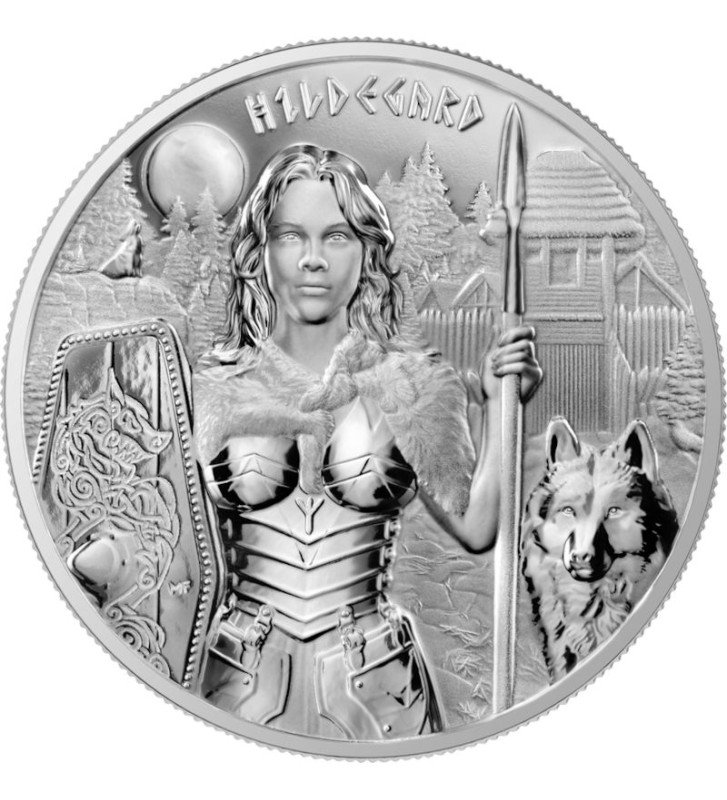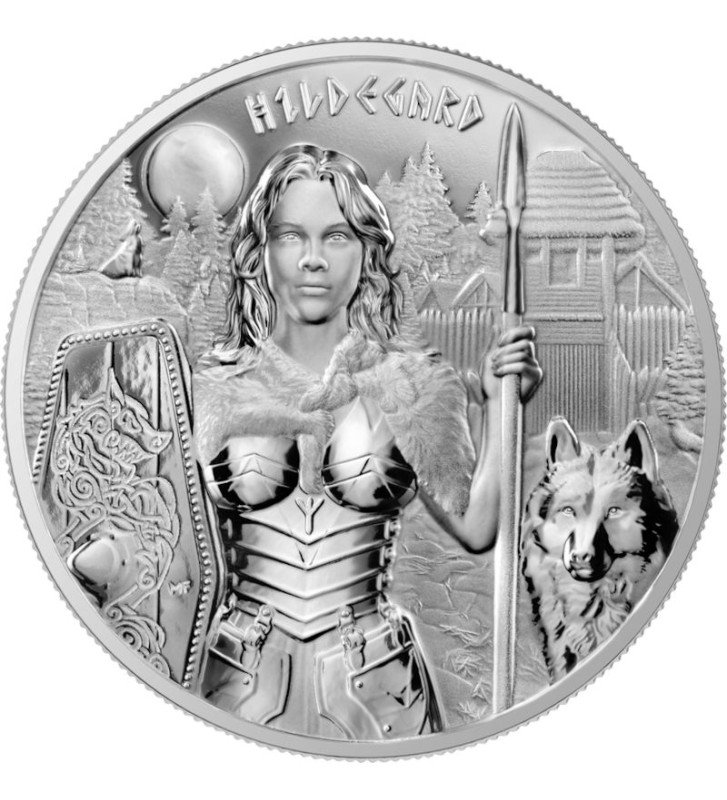  
Denomination

5 Mark

Country

Germania

Metal

Ag 999

Weight

31,1 g

Size

Ø 38,61 mm

Quality

BU

Mintage

25 000 pcs

Date of issue

2022-05

Accessories

Capsule

Accessories

Certificate

Series

Valkyries
SECURE SHOPPING WITH SSL CERTIFICATE
INSURED SHIPMENT / OWN COLLECTION
The first coin in the new "Valkyries" series, produced by Germania Mint. The series will depict the Norse goddesses, daughters of Odin. In Norse mythology the Valkyries carried to Valhalla the souls of the bravest warriors who fell in battle.
On the reverse of the coin Hildegard is depicted as the protector of men. Behind the Valkyrie is a fortress, guarded by a high wall of wooden palisades. In her hand Hildegard holds a Germanic spear and a shield with an image of the wolf Fenrir. On the armour of the goddess is engraved the rune Algiz - its function is to protect and give a sense of security, openness and support. Hildegard is accompanied by a wolf, which can also be seen in the background of the coin - on a rock, howling to the moon.
The obverse, on the other hand, presents a completely new design, combining both the two-headed eagle characteristic of Germania Mint, as well as new Germanic runes and a howling wolf. The animal motif, symbolising strength and independence, is not accidental - in exchange for food, wolves defended settlements and their inhabitants. The entire design of the reverse is composed in the form of a shield, on which the year of issue, the metal alloy and the 5-mark denomination are also placed.
The coin is struck at a mintage of 25,000 pieces. It is supplied with a certificate of authenticity. 
in the same series/category