5$ Marco Polo - Famous Explorers
Available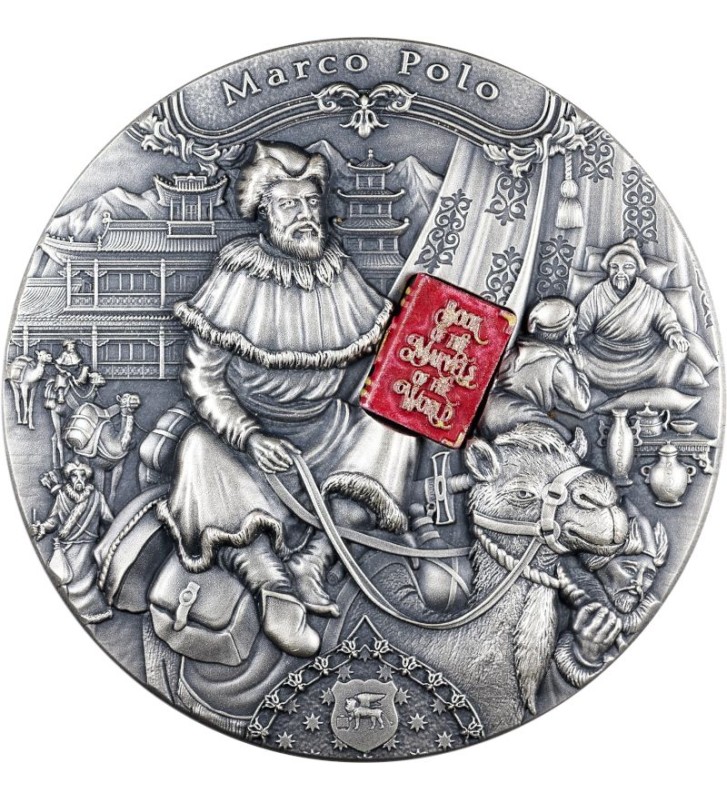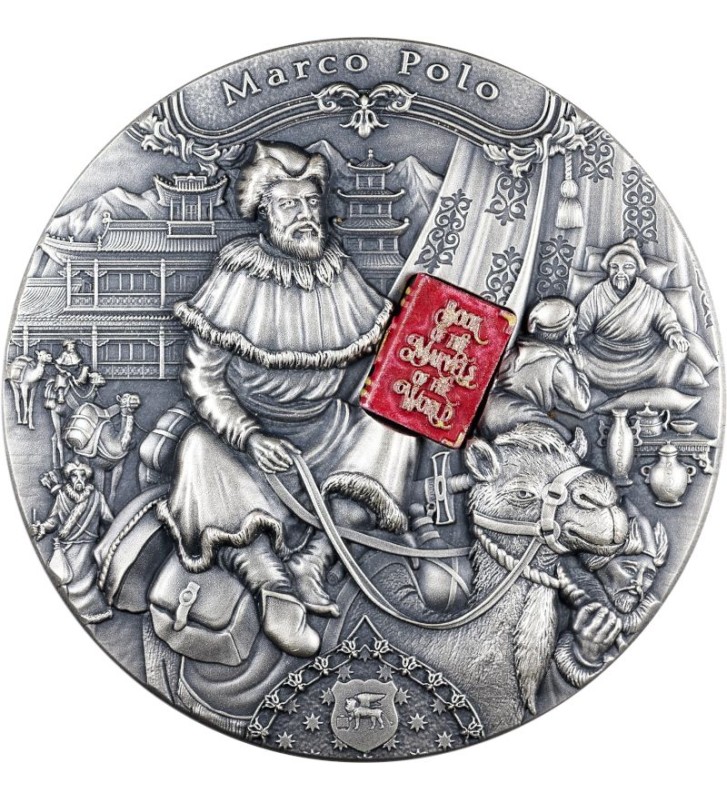 The design of the coin is illustrative and may differ from the final result.
 
Denomination

5 $

Country

Niue Island

Metal

Ag 999

Weight

62,2 g

Size

Ø 45 mm

Quality

Antique Finish

Additions

High Relief

Additions

Numbered Edge

Additions

3D insert

Mintage

500 pcs

Date of issue

2022-10

Accessories

Certificate, Box

Series

Famous Explorers

Availability

Available
SECURE SHOPPING WITH SSL CERTIFICATE
INSURED SHIPMENT / OWN COLLECTION
PLEASE NOTE: There is a limit of: 10 items when purchasing this item. (maximum quantity allowed in all customer purchases).
The second coin in the wonderful "Famous Explorers" series, which brings us closer to the world of the pioneers of distant travel.
Discover a new dimension of numismatics with Marco Polo!
The reverse of the coin features Marco Polo. The Winter Palace of the Bogd Khan located in Ulaanbaatar is placed in the background. Next to Marco Polo, a caravan can be seen as well as the Khan in a tent, who is talking to Marco Polo's uncle or father. The coin is decorated with a 3D insert in the form of a book, which has been hand-painted with the greatest attention to detail.
The obverse of the coin shows Queen Elizabeth II, the denomination, the issuing country and the bullion sample. To the right of the obverse is the war palace of Kubilai Khan. 
Together with a certificate of authenticity, our coin is available in an elegant wooden box and themed packaging. The entire set forms a matching composition.
Marco Polo was a Venetian merchant, explorer and writer who travelled through Asia along the Silk Road between 1271 and 1295. His travels are recorded in The Travels of Marco Polo (also known as Book of the Marvels of the World and Il Milione, c. 1300), a book that described to Europeans the then mysterious culture and inner workings of the Eastern world, including the wealth and great size of the Mongol Empire and China in the Yuan Dynasty, giving their first comprehensive look into China, Persia, India, Japan and other Asian cities and countries.
Designs:
3D model:
The photos of the coin are for reference. The coin in reality may vary slightly.
in the same series/category
To order
To order
To order
To order
To order
To order
To order
Available
PLN14,399.10
Regular price
PLN15,999.00
-10%
Price
To order
Available
PLN72.98
Regular price
PLN89.00
-18%
Price
To order
To order
Soon
Available
2 oz Ag 999 space + rose gold
To order
To order
5 oz Ag 999, mother of pearl