2000 Francs Domowik - Slavic Bestiary
To order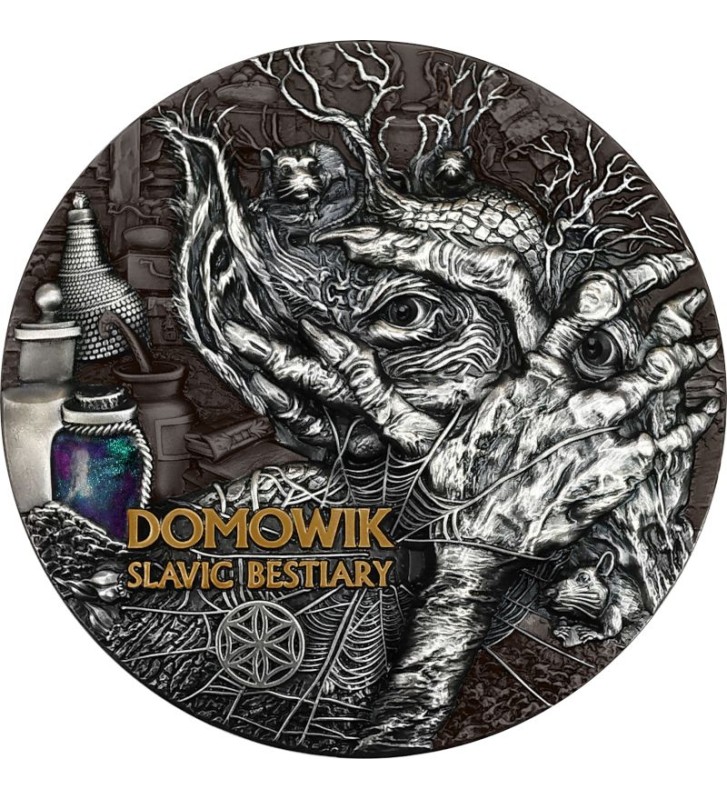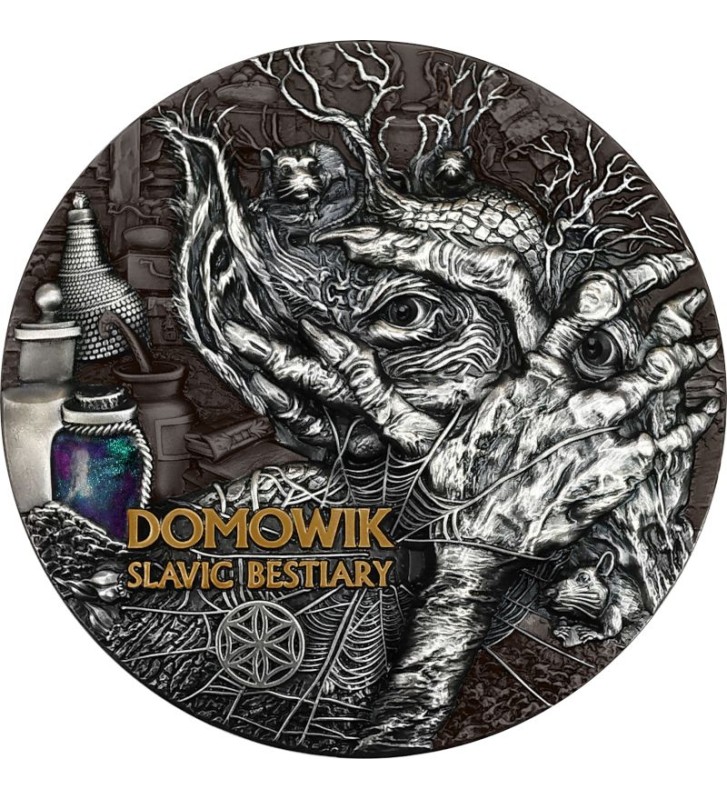 The design of the coin is illustrative and may differ from the final result.
 
Denomination

2000 Francs

Country

Cameroon

Metal

Ag 999

Weight

93,3 g

Size

Ø 55 mm

Quality

Antique Finish

Additions

Printing UV

Additions

High Relief

Additions

Numbered Edge

Additions

Resin

Additions

Selective Gold Plating

Mintage

500 pcs

Date of issue

2022-10

Accessories

Certificate, Box

Series

Slavic Bestiary

Availability

To order
SECURE SHOPPING WITH SSL CERTIFICATE
INSURED SHIPMENT / OWN COLLECTION
The second coin from the extremely interesting "Slavic Beastiary" series. 
 The coin was minted from 3 ounces of pure silver with a total weight of 93.3 grams. The reverse of the coin shows a kabbalistic image of a Domowik emerging from inside the cottage. There are everyday tools around the character. A colour print has been applied to the background, thanks to which the silvery figure of the Domowik contrasts wonderfully with the background. The coin has also been refined with a colored resin with glitter and selective gold plating on the coin and series name.
The obverse of the coin is rich in mystical details related to flora and fauna. It also features the issuer's coat of arms, the year of issue, the denomination and the silver sample.
In Slavic mythology, Domowik was a being who inhabited and guarded the house. It was also believed that these were the ghosts of deceased family members who stayed in human company to look after the fire. He was pictured as a small, stale figure, walking around the farm at night in threadbare and worn out clothes. Domowik was treated as a family member, so he had to leave food, but neglected and forgotten he took revenge on his hosts.
Drafts: 



Model 3D:


  
 
The photos of the coin are for reference. The coin in reality may vary slightly.

in the same series/category