2£ Elizabeth II Queen of the United Kingdom - The Spirit of the Nations
To order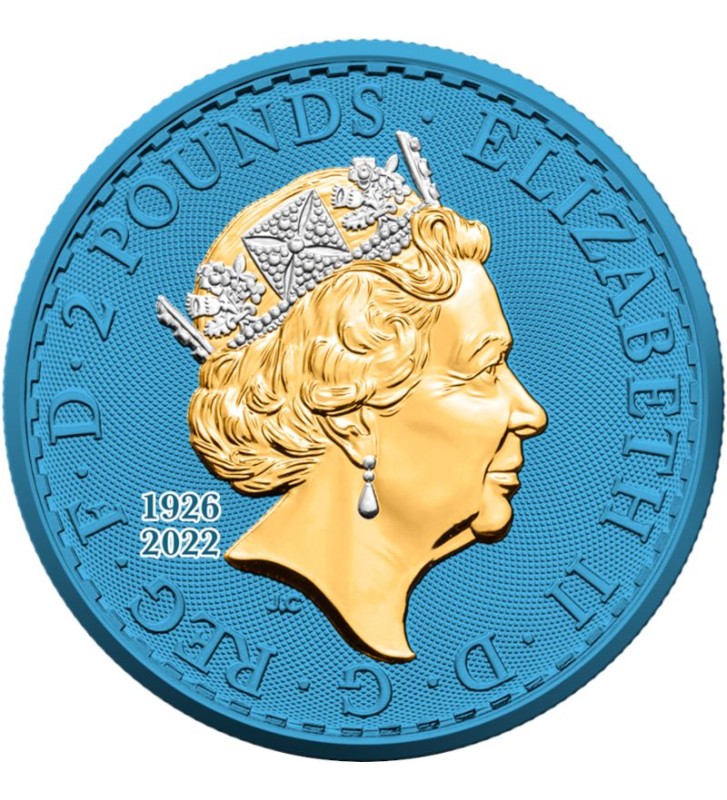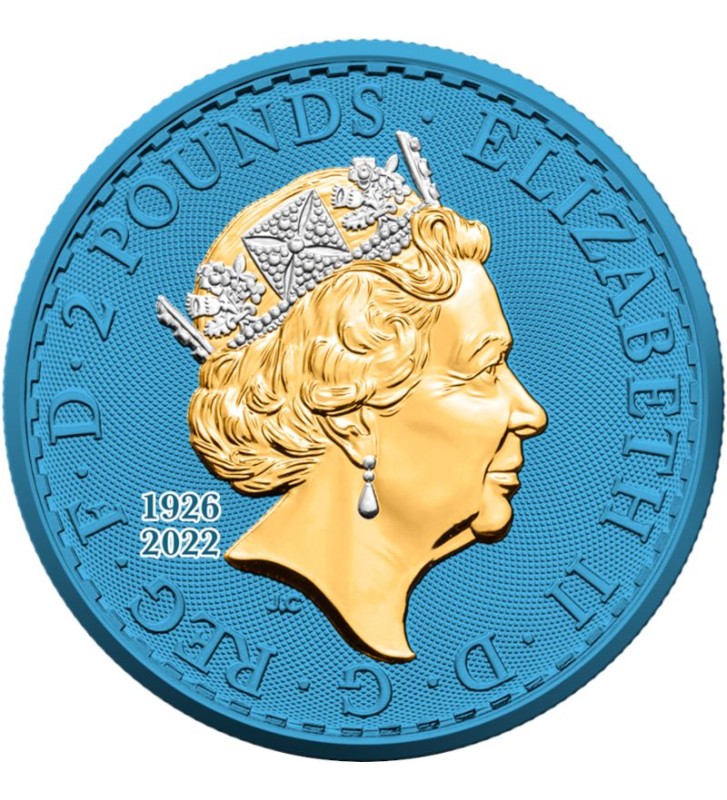 The design of the coin is illustrative and may differ from the final result.
 
Denomination

2 £

Country

Great Britain

Metal

Ag 999

Weight

31,1 g

Size

Ø 38,61 mm

Quality

BU

Additions

Printing UV

Additions

Selective gold plating

Additions

Space Printing

Mintage

200 pcs

Date of issue

2022-09

Accessories

Certificate, Box

Series

The Spirit of the Nations

Availability

To order
SECURE SHOPPING WITH SSL CERTIFICATE
INSURED SHIPMENT / OWN COLLECTION
ATTENTION! Purchase limit applies: 5 units per customer. Another coin of the "Spirit of the Nations" series!
This commemorative coin was issued in memory of Queen Elizabeth II, who died on 8 September 2022 at the age of 96, after a reign of 70 years. No queen and no king had ruled Britain for longer. At just 25 years of age, the monarch of the Windsor family succeeded her father on the throne.
The coin is made from 1 ounce of pure silver in the highest mint quality polished tin and is strictly limited to just 200 pieces worldwide. The coin is decorated with a special 'space' colour technique and gold. 
Elizabeth II - Queen of the United Kingdom of Great Britain and Northern Ireland of the Windsor dynasty from 6 February 1952 (crowned 2 June 1953) to 8 September 2022, daughter of King George VI and his wife, Elizabeth Bowes-Lyon. In November 1947 she married Philip Mountbatten, former Prince of Greece and Denmark, and their marriage lasted 73 years until his death in April 2021. They had four children, Charles, Anne, Andrew and Edward.
In addition to her dignity as Queen of the United Kingdom of Great Britain and Northern Ireland, she was also head of 14 other countries: Antigua and Barbuda, Australia, the Bahamas, Belize, Grenada, Canada, Jamaica, New Zealand, Papua New Guinea, Saint Kitts and Nevis, Saint Lucia, Saint Vincent and the Grenadines, Tuvalu and the Solomon Islands, which together with the United Kingdom have the status of the so-called Commonwealth realm. The number of countries in which Elizabeth II reigned fluctuated during her reign. There were 33 countries that recognised her as head of state.
Britannia is a very popular buillon coin. Minted by the British mint - The Royal Mint. It is guaranteed by the British government and is a fully fledged means of payment in the UK. The first silver Britannia was struck in 1997.
This year's version was struck from 1 ounce of 999 silver. The reverse is decorated with the unchanging personification of Great Britain, which dates back to Roman times. In the Victorian era and during World War I, this image served as an anthropomorphisation of the British nation and for the propaganda purposes of Entente. The obverse is modified in every odd year of its publication.
related products
To order
To order
To order
in the same series/category