5$ Time of Contempt - The Witcher Book Series
2 oz Ag 999 3D insert with mother of pearl
To order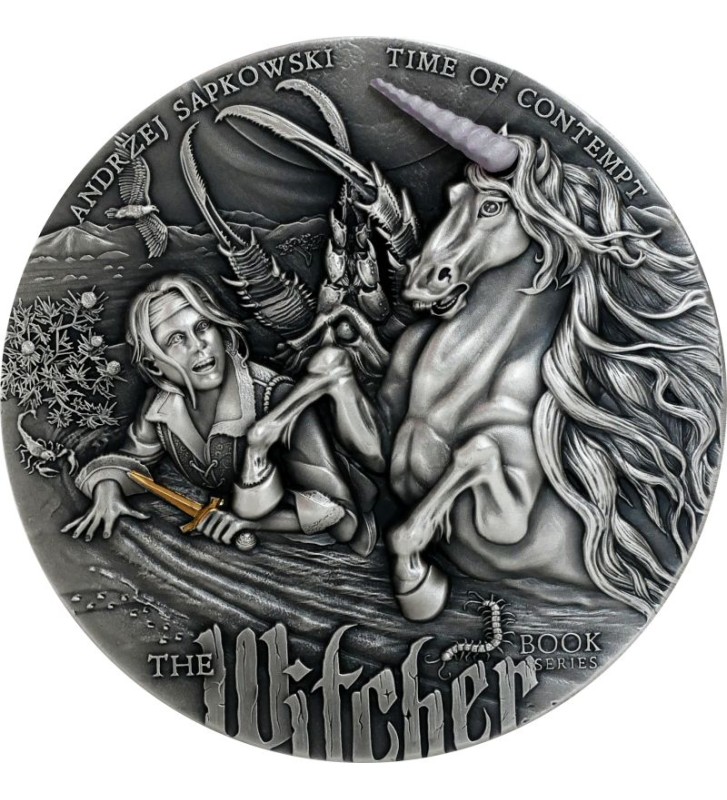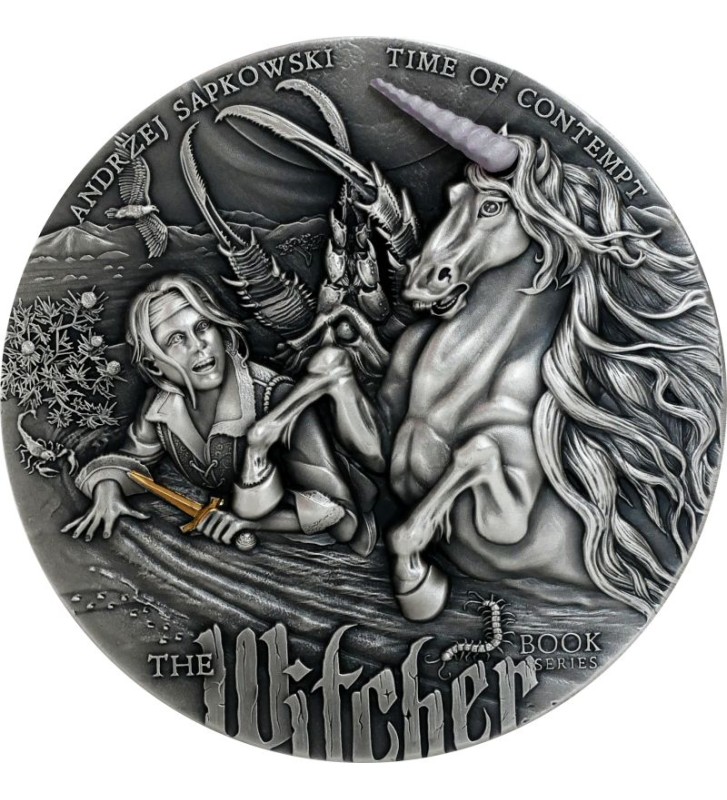 The design of the coin is illustrative and may differ from the final result.
 
Denomination

5 $

Country

Niue Island

Metal

Ag 999

Weight

62,2 g

Size

Ø 45 mm

Quality

Antique Finish

Additions

High Relief

Additions

Numbered Edge

Additions

Selective gold plating

Additions

3D insert with mother-of-pearl

Mintage

2000 pcs

Date of issue

2022-08

Accessories

Certificate, Box

Series

The Witcher Book Series

Availability

To order
SECURE SHOPPING WITH SSL CERTIFICATE
INSURED SHIPMENT / OWN COLLECTION
Return of the Witcher! Experience the next amazing adventures of the Witcher minted in the purest silver! Each coin from the "The Witcher Book Series" sells out in a flash and additionally gains in value. The first coin of the series went up by over 400%!
This year we present the third issue of the coin, Time of Contempt.
The Time of Contempt coin is minted in 62.2 grams of fine silver. The reverse, 45 mm in diameter, depicts an important scene from Andrzej Sapkowski's book of the same title. This time it depicts Ciri and the unicorn Ihuarraquax.
Ihuarraquax was a young pure white unicorn who wandered the Korath desert with Ciri for a few days. She saved him after he was poisoned by a sand monster by using the Force found in the element of fire. Between them, they were able to find food and water for each other and likely neither would have survived the desert without the other.
Every detail of the reverse is perfectly visible thanks to the high relief, and the whole thing looks extremely vivid, just like the world presented in Sapkowski's book. Additions also attract the attention. On the reverse there is an addition in the form of selective gold, which covers Ciri's dagger. Another interesting element of the decoration is the 3D imitation unicorn horn insert with mother of pearl. The inserts may differ from the one shown in the picture. 
The obverse is decorated with ornaments and symbols related to White Wolf. On the left side of the obverse there is information about the denomination, silver sample and issuer. 
The coin is packed in an elegant, wooden box with a certificate of authenticity. Limited edition of 2000 pieces!
Issue plan (may be subject to change):
1. The Last Wish 
2. Sword of Destiny 
3. Blood of Elves 
4. Time of Contempt 
5. Baptism of Fire
6. The Tower of the Swallow 
7. The Lady of the Lake 
8. Season of Storms 
Drafts:
3D:
in the same series/category