To order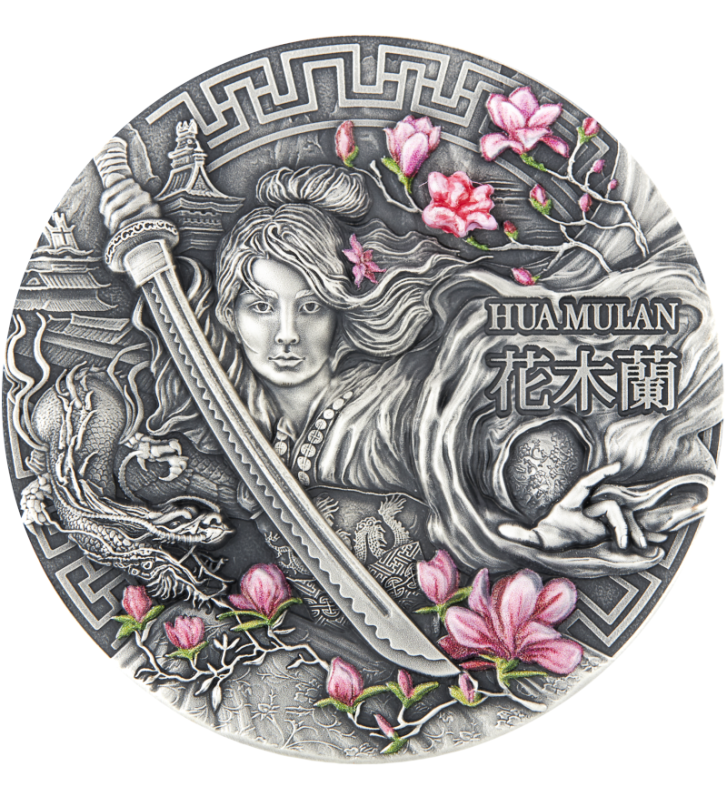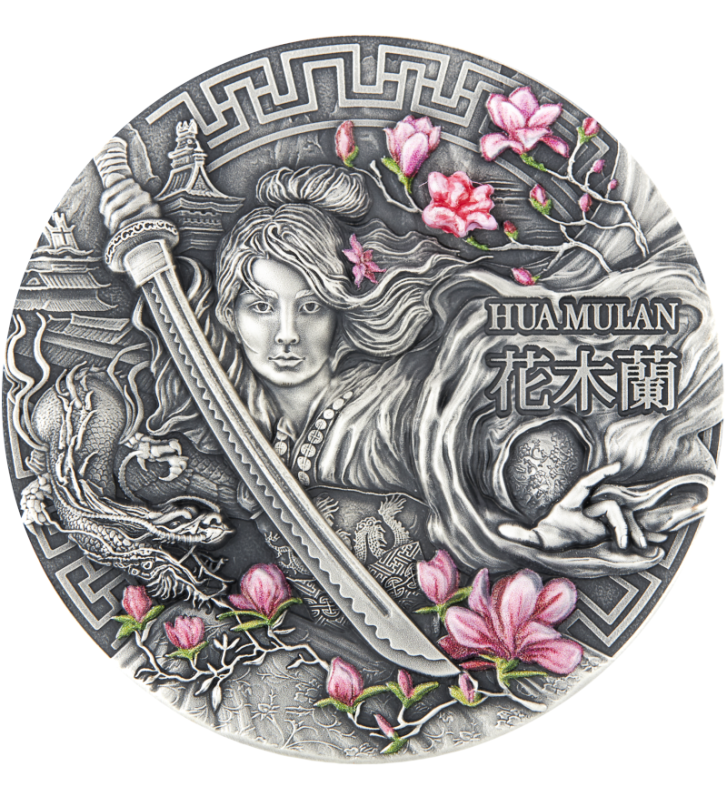 The design of the coin is illustrative and may differ from the final result.
 
Denomination

5 $

Country

Niue Island

Metal

Ag 999

Weight

62,2 g

Size

Ø 45 mm

Quality

Antique Finish

Additions

Printing UV

Additions

High Relief

Additions

Numbered Edge

Additions

3D insert

Mintage

500 pcs

Date of issue

2021-12

Accessories

Certificate, Box

Series

Heroines

Dostępność

Na zamówienie
SECURE SHOPPING WITH SSL CERTIFICATE
INSURED SHIPMENT / OWN COLLECTION
The first coin of the new extraordinary "Heroines" series! This series presents extremely brave and courageous women who have influenced the fate of many people.
Hua Mulan is a heroine from a Chinese legend. According to "The Ballad of Mulan", written down during the Song dynasty, Mulan's father was drafted into the army due to the lack of an adult male descendant. In order to help her father, Hua Mulan disguised herself as a man and enlisted in the army instead. For 12 years she took part in wars, rising to a high rank of officer. None of her comrades-in-arms ever recognised her true gender or identity. She showed great courage and determination. She proved that family and honour were of the highest value to her.
This coin is an excellent investment as well as collector's item. It was struck from 2 ounces of pure silver. The reverse features a dynamic scene - Hua Mulan is ready for battle. The beautiful female figure was accentuated with colourful magnolia flowers; "Huā" means "flower" in Chinese, while "Mùlán" is magnolia. The name of the heroine of the legend is not without meaning, because in China magnolia flowers are a symbol of purity and nobility. Additionally, the coin is decorated with a 3D insert in the shape of magnolia. Next to the female warrior there is an image of a dragon, which is a symbol of Mulan's ancestral spirit. 
On the obverse there are ornaments and symbols of the heroine: a sword with which Mulan cut her hair to resemble a man, and a magnolia flower. The coin comes packaged in an elegant wooden box placed in a feminine wrapper. The whole is completed with a certificate of authenticity.
Drafts: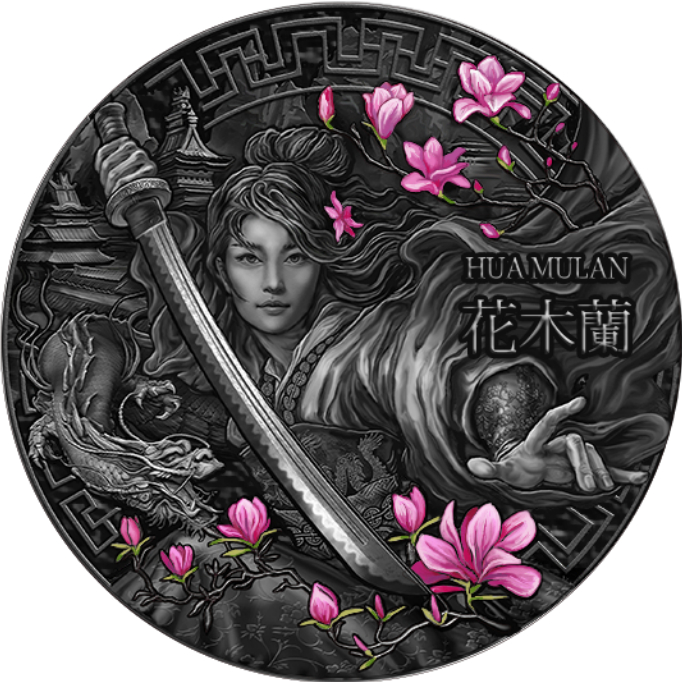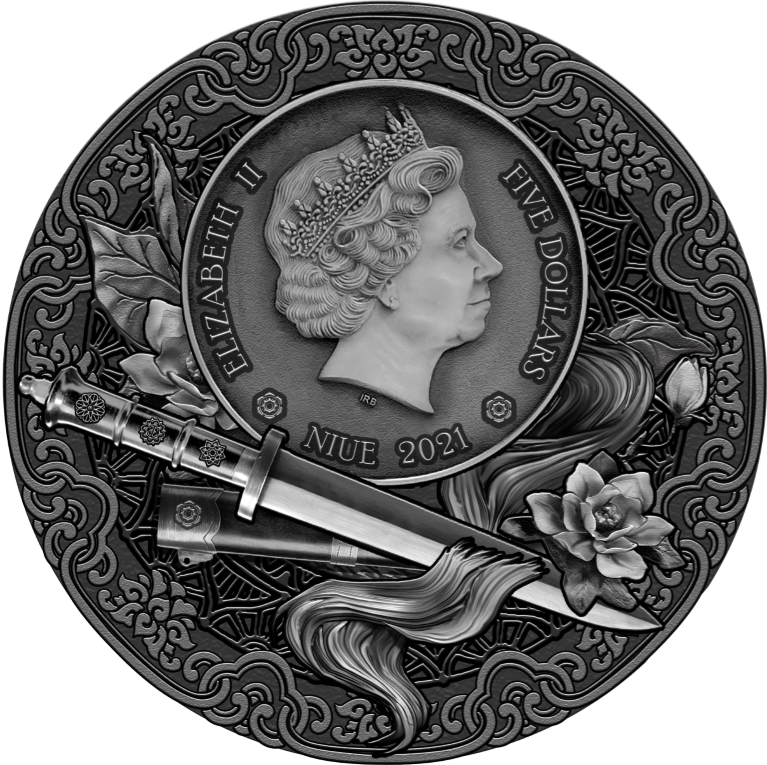 3D Designs: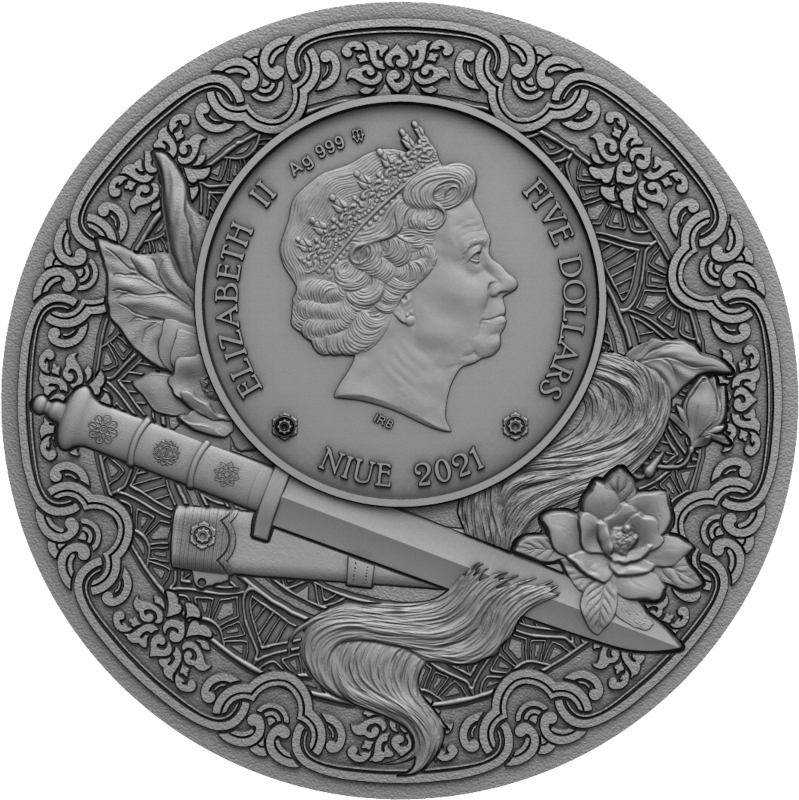 in the same series/category