50$ White Wolf 1 kg + 10$ White Wolf 5 oz - The Witcher Book Series, set with book
1 kg Ag 999 + 5 oz Ag 999 set with book
Soon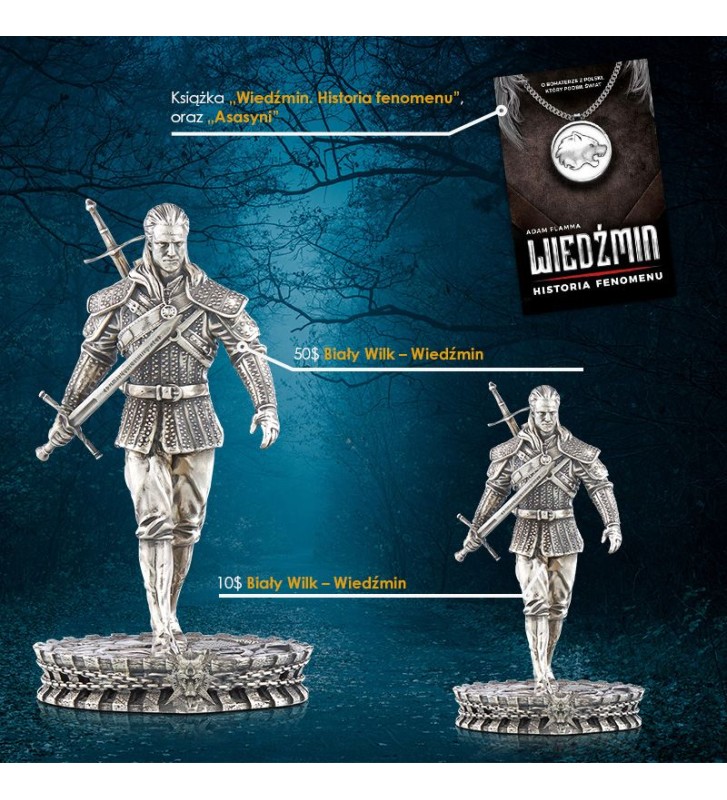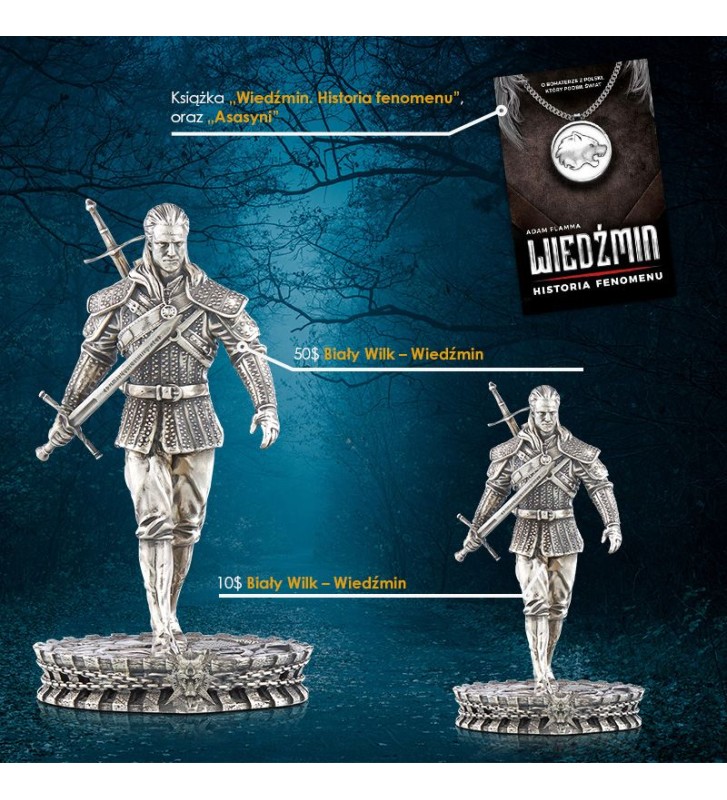  
Denomination

10$, 50$

Country

Niue Island

Metal

Ag 999

Weight

155,5 g, 1 kg

Size

45 x 48 x 80 mm, 85 x 95 x 152,6 mm

Quality

Antique Finish

Mintage

1000 pcs, 100 pcs

Date of issue

2021-02

Accessories

Certificate, Box

Series

The Witcher Book Series
SECURE SHOPPING WITH SSL CERTIFICATE
INSURED SHIPMENT / OWN COLLECTION
The world's first coin in the shape of statue coins along with a book telling the story of the entire Witcher Book Series universe!  It is included in the wonderful  "The Witcher Book Series"!
The set includes a coin in two versions: the smaller $10 coin, made of 168 g Ag 925, which means: 5 oz Ag 999 and 12.5 g CuNi (the width of the figure is 45mm, the length is 48 mm and the height is 80 mm) and the larger, $50 denomination, made of 1.08 kg Ag 925, which means: 1 kg Ag 999 and 80 g CuNi (85mm wide, 95mm long and 152.6mm high). Additionally, the coins are accompanied by the book "The Witcher. History of the phenomenon" by Adam Flamma. The lavishly illustrated book, full of curiosities and unknown facts, contains, among other things, 17 interviews with the creators (including Andrzej Sapkowski himself, Bogusław Polch, Marek Brodzki, Jacek Rozenk, Tomasz Bagiński and the musicians Percival Schuttenbach), thanks to which the story of the White Wolf has been heard by all lovers of popular culture at every latitude.
The coins delights with its workmanship. The majestic pose of White Wolf was minted in silver with all details. The main character appears in the combat position he assumes in Andrzej Sapkowski's books. The famous swords of the character were exposed, and additionally the sword in white wolf's hand was decorated with runic script. The coin also features the amulet of the School of the Wolf , proudly resting on the character's neck. Each coin has a numbered obverse.
The obverse confirms the authenticity of the coin. It contains information on the denomination, issuer, weight and purity of the silver. The mintage was limited to 1000 (smaller coin) and 100 (bigger coin) pieces. The coin is packed in an elegant, thematic box, together with a certificate of authenticity. The coin comes with a special brush, thanks to which you will be able to keep in perfect condition. 
The series will include 12 coins in the shape of statue, released each year. Together they will form a unique collection. 8 coins will correspond to subsequent volumes of The Witcher book series and 4 coins will be dedicated to scenes from the books with main characters. The whole series is based on Andrzej Sapkowski's novels. 
Issue plan:
1. White Wolf (2021)
2. The Last Wish (2022)
3. Sword of Destiny (2023)
4. Yennefer, Sorceress of Vengerberg (2024)
5. Blood of Elves (2025)
6. Time of Contempt (2026)
7. Buttercup, Troubadour (2027)
8. Baptism of Fire (2028)
9. The Tower of the Swallow (2029)
10. Ciri, Child of Surprise (2030)
11. The Lady of the Lake (2031)
12. Season of Storms (2032)
Join the unique group of silver coin in the shape of statue owners!
related products
Soon
5 oz + 2 x 2 oz Ag 999 set with books
7,899.00 PLN
Regular price
8,199.00 PLN
Price
in the same series/category