50$ Sword of Destiny - The Witcher Book Series
To order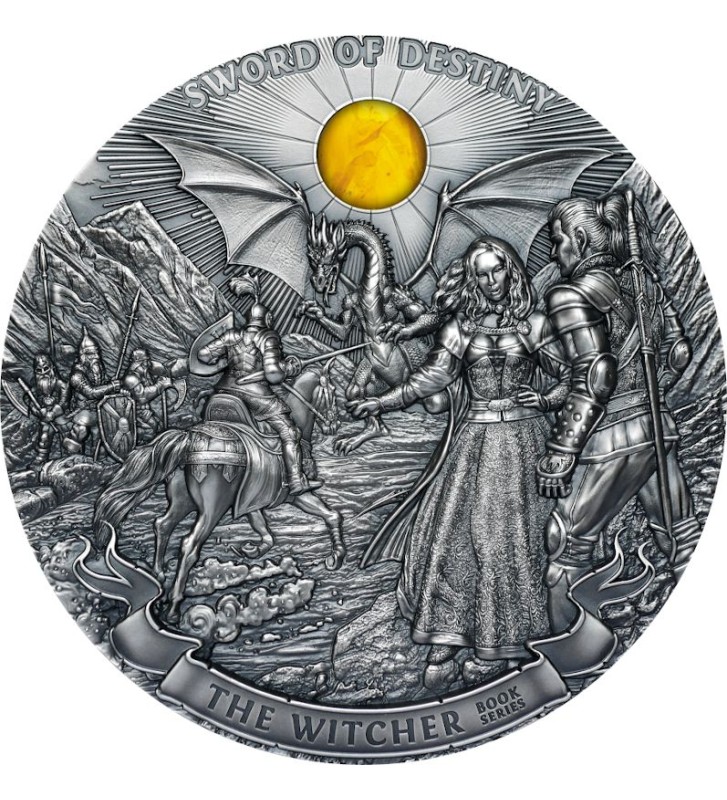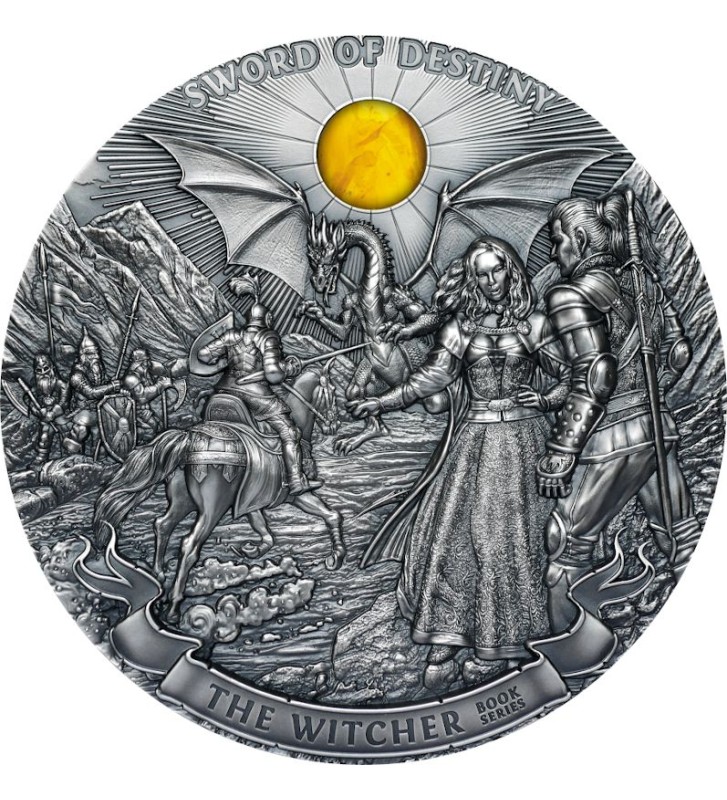  
Denomination

50 $

Country

Niue Island

Metal

Ag 999

Weight

1 kg

Size

Ø 100 mm

Quality

Antique Finish

Additions

Agate

Additions

High Relief

Additions

Numbered Edge

Mintage

200 pcs

Date of issue

2020-11

Accessories

Certificate, Box

Series

The Witcher Book Series
SECURE SHOPPING WITH SSL CERTIFICATE
INSURED SHIPMENT / OWN COLLECTION
We are excited to introduce the second coin in the "Witcher Book Series".
This incredible coin (complimenting the major edition of 2 oz) has an impressive weight of one kilogram, a diameter of 100 mm and is made of the purest silver.
The coin depicts the scene of the battle against the dragon from the novel Sword of Destiny.
Every detail of the reverse is clearly visible thanks to the very high relief, which is 3.6 mm. An interesting addition to this version is an agate stone, placed  both on the reverse and obverse, imitating the sun. On the obverse we can also find the name of the Dragon who plays a significant part in the story. In the center, depicting another scene from the novel, we see an ancient bridge built by the trolls, that collapses during the passage. Main character and Yennefer, holding on to the bridge, are eventually rescued by Jaskier and the others.
The mintage is limited to 200 pieces! The wooden box has been varnished to a high gloss, and the engraving on the front is covered in yellow, corresponding to the color of the stone.

The price of silver has practically doubled since the last edition in 2019.
We have decided to keep the price from the first mintage for you!
Issue plan (may be subject to change):
1. The Last Wish 
2. Sword of Destiny 
3. Blood of Elves 
4. Time of Contempt 
5. Baptism of Fire
6. The Tower of the Swallow 
7. The Lady of the Lake 
8. Season of Storms 
Drafts:
related products
To order
2 oz Ag 999 Multilayered 3D Glass
in the same series/category