5$ Sword of Destiny - The Witcher Book Series, commission
2 oz Ag 999 Multilayered 3D Glass
Available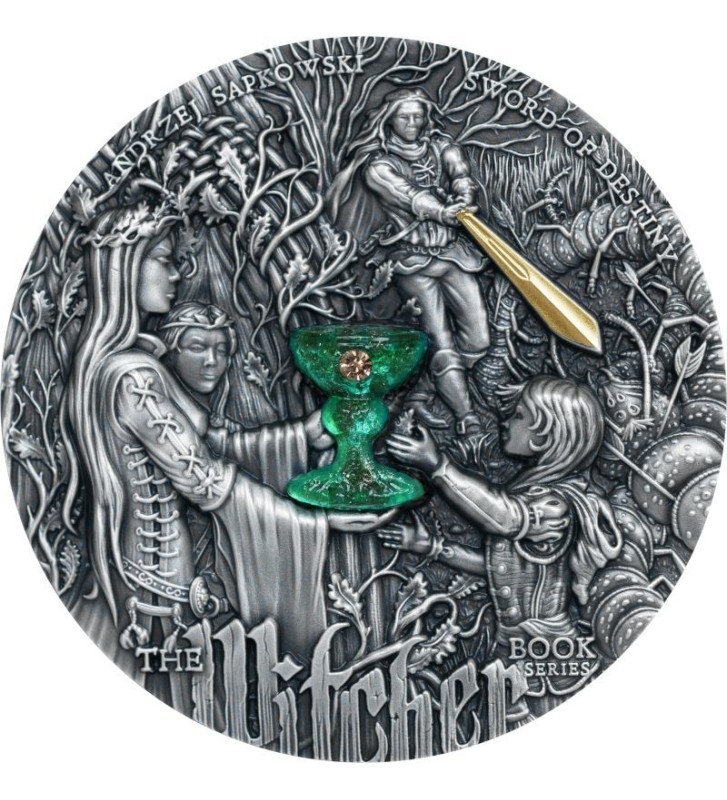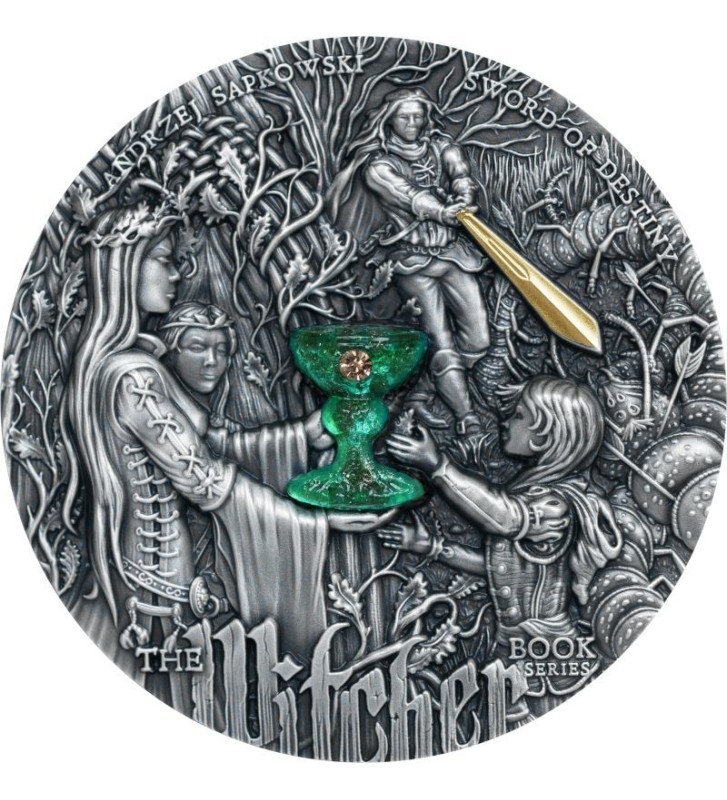 The design of the coin is illustrative and may differ from the final result.
 
Denomination

5 $

Country

Niue Island

Metal

Ag 999

Weight

62,2 g

Size

45 mm

Quality

Antique Finish

Additions

High Relief

Additions

Numbered Edge

Additions

Selective gold plating

Additions

Multilayered 3D Glass

Mintage

2000 pcs

Date of issue

2020-11

Accessories

Certificate, Box

Series

The Witcher Book Series

Availability

Available
SECURE SHOPPING WITH SSL CERTIFICATE
INSURED SHIPMENT / OWN COLLECTION
The coin comes from a commission. Perfect condition.
Discover new adventures of White Wolf, mint in the purest silver! There will be 8 coins in total in the series - 1 coin minted every year, each dedicated to a book from the saga.
Mint of Gdansk is excited to announce a long-awaited premiere of the unique coin "Sword of Destiny" in "The Witcher Book Series"! We also encourage you to read the article about why it is worth investing in these coins. 
It is the second coin in "The Witcher Book Series". The series was opened in 2019 by "The Last Wish" coin, its name referring to the novels by Andrzej Sapkowski by the same title.
The Sword of Destiny coin is mint in 62.2 grams of pure silver. The reverse, 45 mm in diameter, shows two scenes that appear at the beginning and end of the story.
The main scene on the reverse, often described by experts and fans as one of the most important in The Witcher Book Series, presents three characters. The Queen of Brokilon, Eithne, is holding the goblet and hands it to Ciri, one of the main figures in the saga. Next to her is Dryad Braenn.
The goblet is filled with the Brokilone Water, containing special powers. Drinking water from the goblet is to determine the fate of Ciri and the others - she may choose to stay in Brokilon or follow her destiny.
In the background we see main character, who has killed skolopendromorf- a forest creature attacking the local residents.
Every detail of the reverse is perfectly visible thanks to the high relief, and the whole looks very vividly, just like the world presented in the collection of Sapkowski's novels.
The accessories also attract attention. Character's sword was plated with pure gold. The most important element of the decoration, the goblet, was made in a very special, hand-polished glass, multilayered 3D glass (slight differences in color compared to visualisations may occur).
The obverse is decorated with ornaments and symbols related to the Brokilon Forest and hero's attributes: swords and a wolf symbol. The elegant coin box also bears the symbol of the hero i.e. the wolf. Limited mintage of 2000 pieces!
The price of silver has practically doubled since the last edition in 2019.
We have decided to keep the price from the first issue for you!
Issue plan (may be subject to change):
1. The Last Wish 
2. Sword of Destiny 
3. Blood of Elves 
4. Time of Contempt 
5. Baptism of Fire
6. The Tower of the Swallow 
7. The Lady of the Lake 
8. Season of Storms 
Drafts:
3D Designs:
Creation of the Project:
related products
Available
2 oz Ag 999 Wooden Insert
Available
To order
in the same series/category
To order
Available
5 oz Ag 999 Mother of Pearl
PLN2,005.15
Regular price
PLN2,359.00
-15%
Price
Available
Torch UV/LED + Collector's banknote, 14 security features against counterfeiting
PLN121.50
Regular price
PLN135.00
-10%
Price
Available
PLN1,519.05
Regular price
PLN1,599.00
-5%
Price
To order
To order
Soon
Available
To order
Available
To order
To order
To order
Available
PLN1,511.30
Regular price
PLN2,159.00
-30%
Price
Available
To order