5$ The Last Wish - The Witcher
To order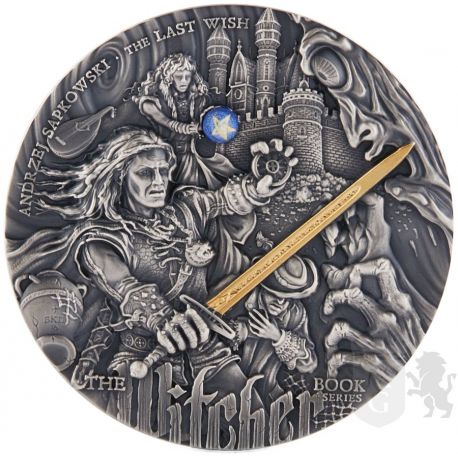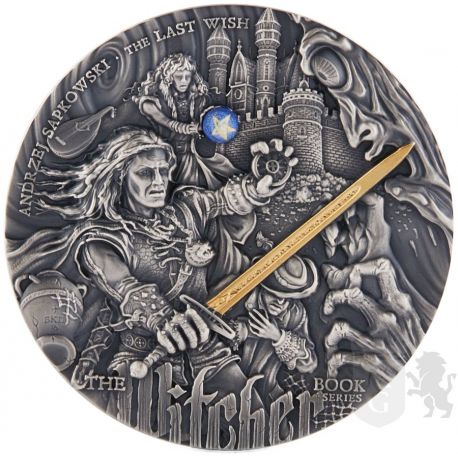  
Denomination

5 $

Country

Niue Island

Metal

Ag 999

Weight

62,2 g

Size

Ø 45 mm

Quality

Antique Finish

Additions

High Relief

Additions

Selective gold plating

Additions

Numbered Edge

Additions

3D insert

Mintage

2000 pcs

Date of issue

2019-11

Accessories

Certificate, Box
SECURE SHOPPING WITH SSL CERTIFICATE
INSURED SHIPMENT / OWN COLLECTION
THE MOST AWAITED COIN OF THE YEAR!
The Mint of Gdańsk in cooperation with Andrzej Sapkowski is proud to present the first coin from the incredible series "The Witcher".
We were the only ones to receive the right to issue coins with this theme, and the theme is outstanding! "The Witcher" is our national good - it is the most famous Polish novel by the fantasist, which has already been transferred to computer games, and in December 2019 the series will be screened in the form of a series on the Netflix platform.
The Witcher is a character created by the Polish fantasy writer Andrzej Sapkowski. Witchers appear, among others, in the so-called Witcher cycle, which consists of two collections of stories: The Last Wish and the Sword of Destiny, the novel Season of Storms and the five-volume Saga about the Witcher. Witchers are associated in a brotherhood and deal with the paid killing of monsters that threaten human safety. The main character of the series is the witcher Geralt from Rivia.
Each coin in the series will be dedicated to one of the Witcher Saga books. The themes of each of them will refer to the title scenes or other important for the course of the action.
This 2-ounce coin on the reverse shows the fighting Geralt who, together with Yennefer, tries to save his companion Dandelion, possessed of the Genie's spell. The coin is decorated with an exceptionally high relief, which shows every detail of the project in every detail. The Witcher's sword is decorated with gold. Yennefer received a ball printed on a 3D printer. The design uses modern technology to make the coin fascinating to anyone who looks at it.
The obverse shows the Witcher's symbols, such as the wolf and the sword, as well as the ornaments of Cintra Castle.
Designs of the reverse and the obverse of the coin:
Stages of project development:
3D projects: 
The coin owes its uniqueness to its gold plating, 3D insert and antique finish. Its mintage is only 2000 pieces worldwide, and only 700 pieces come to the collector's market!
in the same series/category