Southern Sky, Set of 3 coins: Crux, Orion, Pavo
Available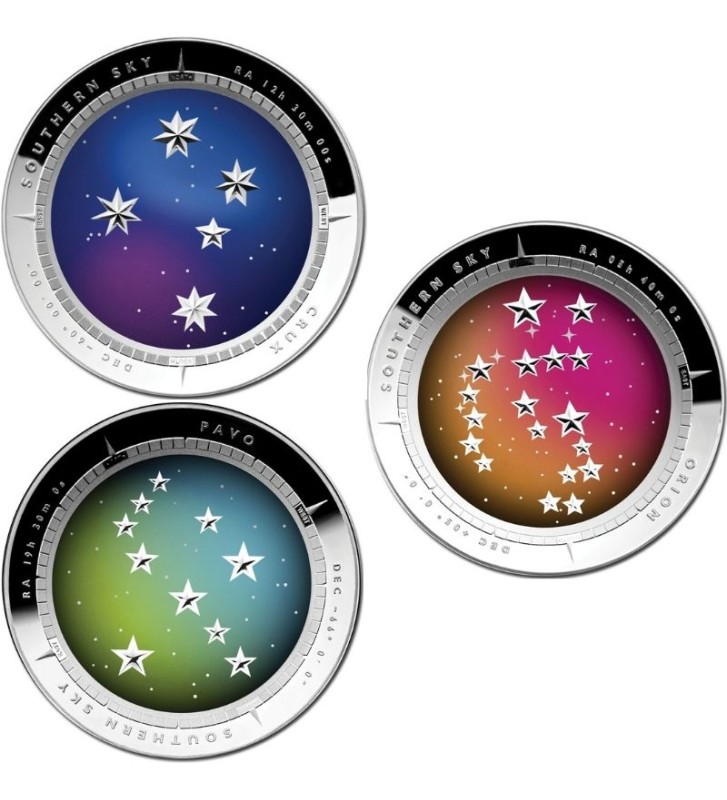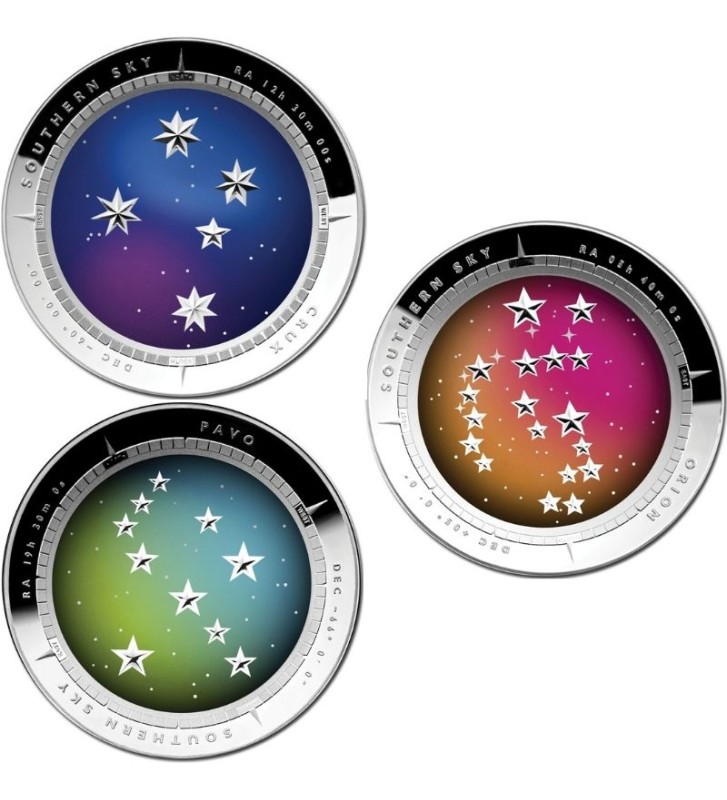  
Denomination

5 $

Country

Australia

Metal

Ag 999

Weight

31,1 g

Size

Ø 39.62 mm

Quality

Proof

Additions

Printing UV

Mintage

5000 pcs

Date of issue

2013-01

Accessories

Certificate, Box
SECURE SHOPPING WITH SSL CERTIFICATE
INSURED SHIPMENT / OWN COLLECTION
A set consisting of 3 coins from the "Northern Sky" series. Each coin features a different constellation decorated with UV printing.
Crux is a constellation centred on four stars in the southern sky in a bright portion of the Milky Way. It is among the most easily distinguished constellations as its hallmark (asterism) stars each have an apparent visual magnitude brighter than +2.8, even though it is the smallest of all 88 modern constellations. Its name is Latin for cross, and it is dominated by a cross-shaped or kite-like asterism that is commonly known as the Southern Cross.
Pavo is a constellation in the southern sky whose name is Latin for "peacock." Pavo first appeared on a 35-cm (14 in) diameter celestial globe published in 1598 in Amsterdam by Plancius and Jodocus Hondius and was depicted in Johann Bayer's star atlas Uranometria of 1603, and was likely conceived by Petrus Plancius from the observations of Pieter Dirkszoon Keyser and Frederick de Houtman. French explorer and astronomer Nicolas-Louis de Lacaille gave its stars Bayer designations in 1756. The constellations Pavo, Grus, Phoenix and Tucana are collectively known as the "Southern Birds".
Orion is a prominent constellation located on the celestial equator and visible throughout the world. It is one of the most conspicuous and recognizable constellations in the night sky. It is named after Orion, a hunter in Greek mythology. Its brightest stars are blue-white Rigel (Beta Orionis) and red Betelgeuse (Alpha Orionis).
in the same series/category