5000 Francs Amber Route - Historic Trade Routes
Available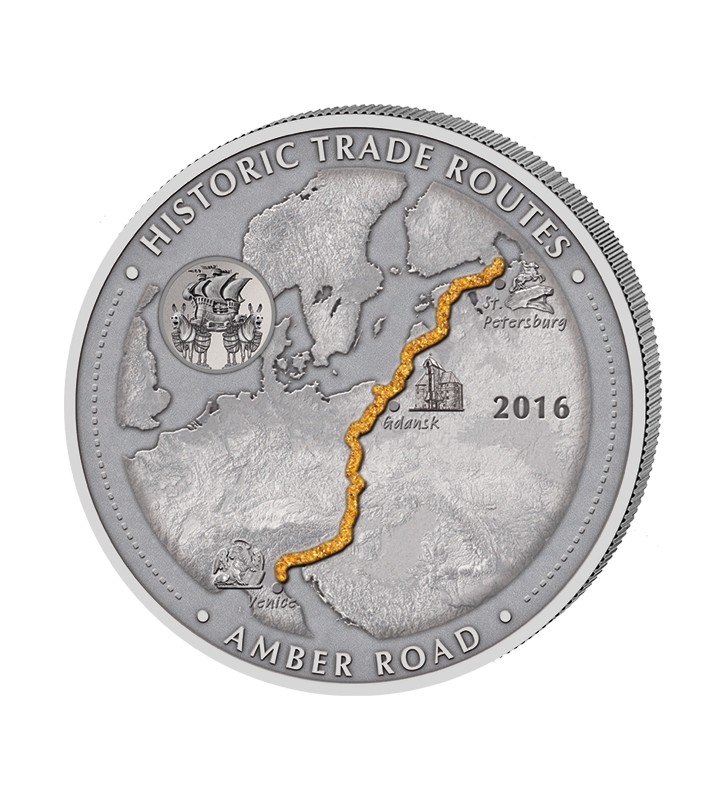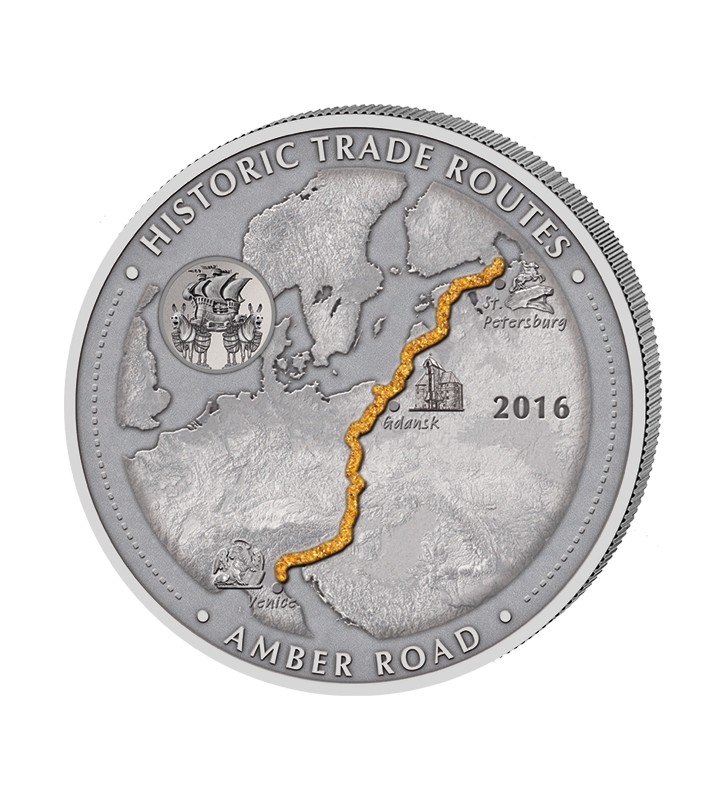  
Denomination

5000 ₣

Country

Cameroon

Metal

Ag 9999

Weight

155,5 g

Size

Ø 80 mm

Quality

Antique Finish

Additions

Amber

Mintage

500 pcs

Date of issue

2016-01

Accessories

Certificate, Box
SECURE SHOPPING WITH SSL CERTIFICATE
INSURED SHIPMENT / OWN COLLECTION
Another coin from the series "Historic Trade Routes".
The Amber Route - it was a trade route between the European countries of the Mediterranean basin and the lands located on the southern coast of the Baltic Sea.
Initially, amber was the subject of trade, mediated by the Celts. The peak development of this trade falls in the third century, and since the middle of the fourth century, the exchange gradually ceased.
The reverse contains a map and names of cities involved in ancient trade. On the reverse side there is also a unique amber insert in the shape of a route.
related products
Available
5000 Franków Tea Horse Road - Historyczne Szlaki Handlowe
1,809.00 PLN
Regular price
1,899.00 PLN
Price
Available
in the same series/category
Available
4 x 1 oz Ag 925 and 1 x 2 oz Ag 925
2,930.00 PLN
Regular price
3,049.00 PLN
Price
Available
Available
669.00 PLN
Regular price
699.00 PLN
Price
Available
1,619.00 PLN
Regular price
1,699.00 PLN
Price
Available
1,399.00 PLN
Regular price
1,445.00 PLN
Price
Available
5000 Franków Tea Horse Road - Historyczne Szlaki Handlowe
1,809.00 PLN
Regular price
1,899.00 PLN
Price
Available
Available
3,400.00 PLN
Regular price
3,529.00 PLN
Price
Available
410.00 PLN
Regular price
429.00 PLN
Price
Available
Available
470.00 PLN
Regular price
495.00 PLN
Price
Available
4,000.00 PLN
Regular price
4,180.00 PLN
Price
Available
5,600.00 PLN
Regular price
5,799.00 PLN
Price
Available
Available
1,990.00 PLN
Regular price
2,059.00 PLN
Price
Available
360.00 PLN
Regular price
379.00 PLN
Price